Touristik & Caravaning was impressive from start to finish!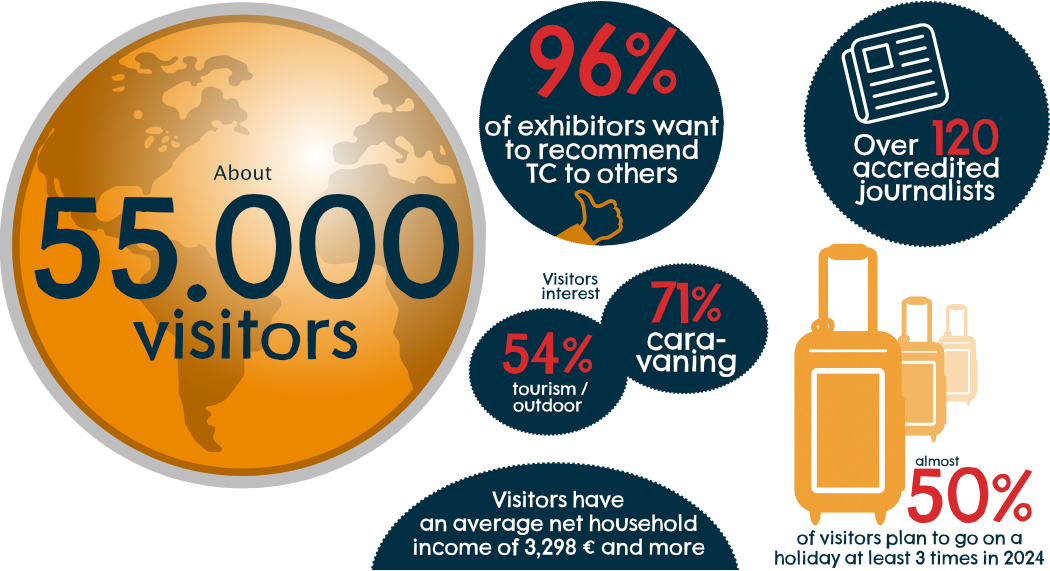 Touristik & Caravaning is back: 5 trade fair days with more than 55,000 visitors keen on travelling and 360 enthusiastic exhibitors! The exhibition concept, which consisted of caravaning, tourism, outdoor activities and culinary delights, covered all areas for visitors with an affinity for travel. The visitors at this year's event were also generally characterised by a great need for personal advice and discussions. A colourful and informative accompanying programme perfectly complemented the trade fair.
The public holiday (Day of Prayer and Repentance) on the first day of T&C Leipzig also attracted visitors to the best travel fair.
With the maxim "Let's continue in this way!", we are working together to ensure that TC 2023 will be even more successful!
Figures relating to Touristik & Caravaning 2022*
Wide catchment area:
The metropolitan region of Central Germany is home to more than 2.5 million people. Around 54% of visitors travelled a distance of more than 50 kilometres to attend the trade fair.
Very good overall mark:
The visitors awarded the trade fair the overall mark of 1.8. 93 per cent of visitors said they would recommend the event to their friends and acquaintances.
A great deal to discover:
The visitors spent an average of 4.4 hours at the trade fair.
*Results of the visitor survey in 2022.
You can find a detailed evaluation of Touristik & Caravaning 2022 at: Show Report 2022 (PDF, 340 KB)