TecStyles Visions has a lot to offer
With your participation you will meet decision-makers from all over Europe. Due to its location in the southwest of Germany, trade visitors from the D/A/CH region with particularly purchasing power are addressed. Rising exhibitor and visitor numbers underline the coherent concept of the event and its ideal location.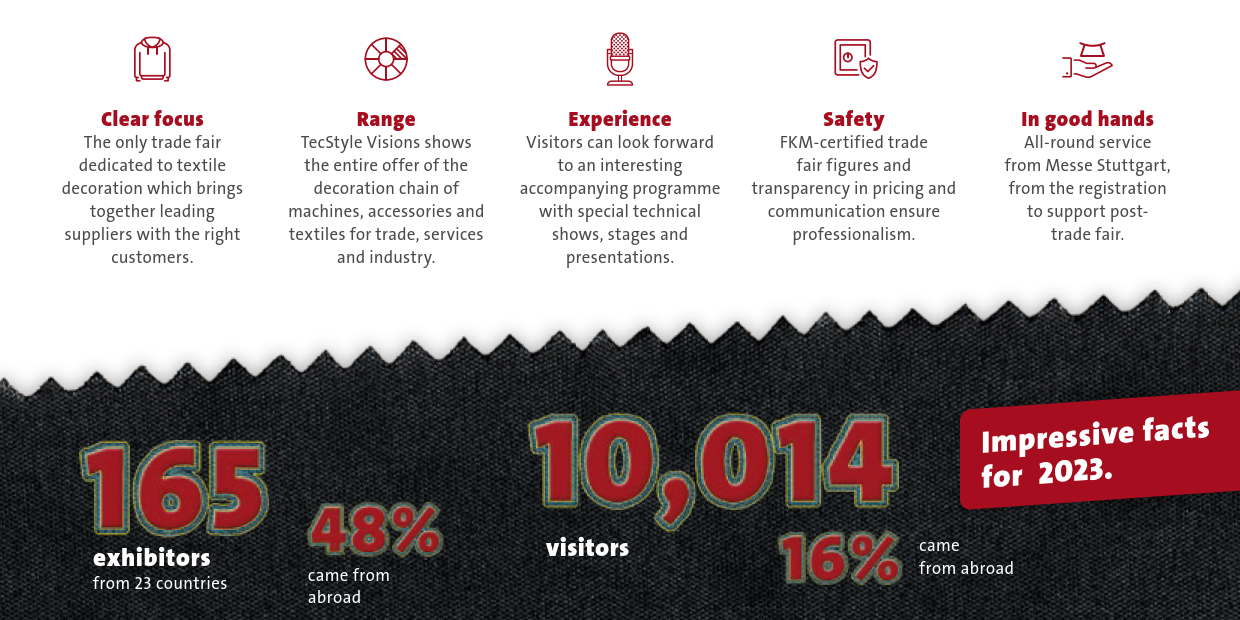 TecStyle Visions convinces:
Europe's leading trade fair for textile decoration and promotion
Part of the EXPO 4.0 - Print trade fair network. Produce. Promote
attractive framework programme with special technical shows, stages and lecture programme
20,000 square metres of exhibition space
optimal accessibility by plane, car, S-Bahn and train
Convinced exhibitors
"TecStyle Visions was really well-attended and is one of the most important events for our company in German-speaking countries. We will take home some very interesting contacts ranging from textile finishers and interested visitors from the advertising industry through to car tuners."

"After the pandemic we were really keen again to exhibit at TecStyle Visions. We like the informal character of the trade fair and were able to finally meet our customers again in person. Our products could be touched and tested in a live setting – that's simply unbeatable! We are very optimistic and are already looking forward to 2025!"

"Compared with the previous event, the number of visitors was lower, but the expertise that they demonstrated on our stand was consistently high. We were visited by large and important companies as well as wholesalers from different countries, for example Italy."

"We are delighted that TecStyle Visions started again and were positively surprised by the large number of visitors on our stand. We meet our customers from the region here in person and use the trade fair for customer care. However, we also benefit from discussions with the industry."

"There is very different demand for our products. In addition to a large number of advertising engineers, some start-ups also came to our stand. On the whole, we rated the expertise of the visitors here on our stand as very good. We came back to TecStyle Visions after some years and were pleased to present our company here to the industry."

"Our stand was very busy right from the start of TecStyle Visions. We met some regular customers, but also new prospective customers on our stand."

"We are very satisfied with TecStyle Visions. The trade fair attracted precisely the right visitors who asked specifically for our products. 2025 is now already a fixed date for our company."

"The visitors here at TecStyle Visions were very diverse and we were pleased with the keen interest, especially in DTF as a fairly new process and in transfer presses. The trade fair is one of the most important platforms for our company since we also address smaller and medium-sized companies here and can meet, in particular, our regular customers."

"There is no other trade fair that fits in so perfectly with us as TecStyle Visions. I was delighted to be here again and was especially pleased with the keen interest shown by the visitors on our stand."

"There was great demand among the visitors to hold personal discussions and experience products first-hand. This was certainly underestimated by some exhibitors who were not present this year. TecStyle Visions was definitely worthwhile for our company. As things stand at present, we will exhibit again in 2025."

"TecStyle Visions was a total success for our company. Our stand was always well-attended and we received positive feedback from the visitors regarding our trade fair presence. We will definitely come back again in 2025."
Exhibition areas and visitor target groups
Textile screen printing
Transfer printing
Digital textile printing
Embroidery
Flock
Strass applications
Laser Engraving
Promotional wear
Corporate Fashion
Sportswear
Workwear
Textile Accessories
Terry products
Textile advertising media
Textile printers
embroiderers
flockers
other service providers for textile decoration (rhinestones, lasers, doming, engraving)
agencies
advertising and marketing specialists from industrial companies
textile and clothing industry
promotional material dealers
sporting goods dealers
team sports and merchandising specialists
advertising technicians
copy and gift shops
clubs and associations.