südback Trend Award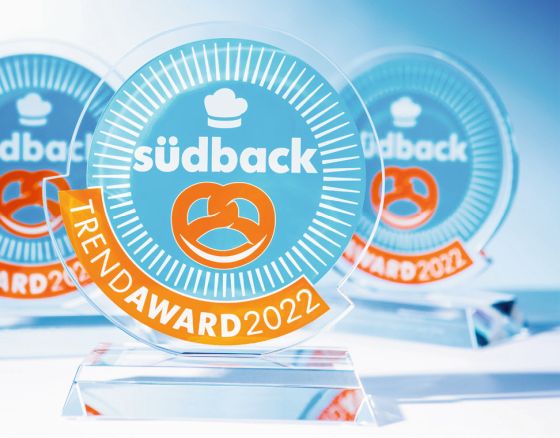 The famous award of the bakery and confectionery trade – the südback Trend Award – is a top-class award with the aim of acknowledging developments in terms of technical innovations, design and concepts.
The südback Trend Award is organised by Messe Stuttgart. The trade journals Allgemeine Bäcker-Zeitung (ABZ) and BÄKO-magazin support this competition as partners. Co-organisers include BÄKO-Zentrale eG and the State Association of Guilds of Württemberg Bakers.
Trend Award winners 2022
The winner in the "Marketing, sales and organisation" category is Keil Konzepte with "Mini Böxle - the world's smallest and fully functioning bakery branch". A transportable, sustainable and flexible sales unit with everything belonging to a superbly equipped shop in miniature, including a store room and sanitary facilities. Using a low loader and a heavy-duty crane, the sales unit can be set up flexibly at another location without any construction measures.
Visit Keil Konzepte in Hall 7, Stand 7C59.
The French manufacturer Boiron Frères made a big impression with its new "AMBIENT FRUIT PURÉES" in the "Raw materials & convenience" category. The fruit purées are available in nine flavours. They do not contain any added sugar, aroma additives or preservatives, but still have a unique fruit taste. The trick, however, is that the fruit purées do not have to be cooled. This makes their processing much easier. The purées are offered in 1-litre Tetra packs.
The winner in the "Technology" category" is va-Q-tec AG with its "va-Q-tray - A va-Q-tec TempChain Solution", a reusable thermal system box. Thanks to their special insulation with high temperature stability, the innovative trays ensure temperature-controlled transport of dough products or other baked goods. If necessary, the boxes can be equipped with additional cold packs. They feature integrated carrying recesses, can easily be stacked, have a standardised Eurobox size and can therefore be combined with other commercially available transport boxes. And they can also be cleaned in washing tunnels.
More about va-Q-tec
Visit va-Q-tec AG in Hall 9, Stand 9D79.