During R+T digital, the best submissions were selected and awarded the R+T Innovation Prize at the official awards ceremony, which was broadcasted in a live stream. For the first time, several award winners per category have been honored at this award ceremony.
On the Day of Innovations, all winners of the R+T Innovation Award have been presented digitally throughout the day in the conference area of R+T. The content presented on the award-winning innovations is available online for 365 days after R+T digital until 20 February 2022.
All presentation of the winners are available at R+T digital in the conference area at the Day of Innovations and in the theme hall Innovations at R+T digital.
Winner Innovation Prize 2021
Gold - Winsol NV
SolarBox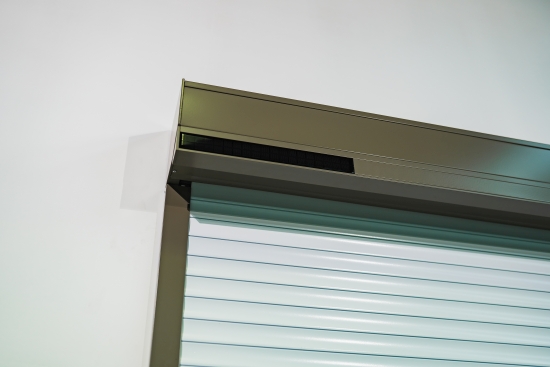 The SolarBox roller shutters, which also run on solar power, are the newest Winsol Innovation. This built-on system is perfect for renovations thanks to the quick installation and the fact that they are fully sustainable, due to the 2 integrated solar panels. Similar to the SolarFix screens, these roller shutters are available with 4 finishes: Standard Symmetrical, Standard Asymmetrical, Black Belt (with a black band between the solar panels) and Colour (tinted solar panels). As an option, you can choose XSmax-technology, which provides 40 cm of extra roll-up capacity. Thanks to the powerful 4 Ah battery with its high storage capacity, you can use your SolarBox shutter all year long!
Gold - REFLEXA-WERKE Albrecht GmbH
RF spacer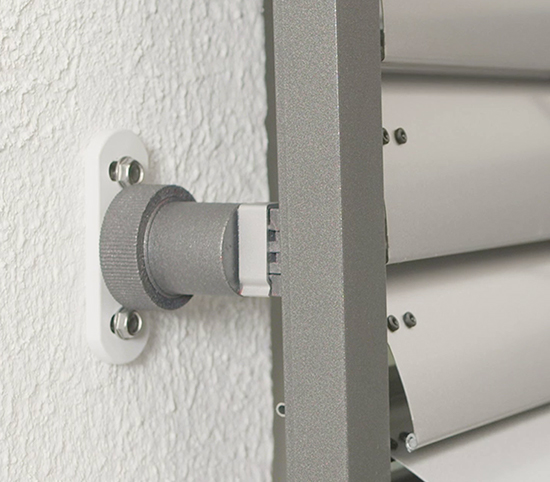 With the new RF spacer from Reflexa, the installation of track-guided external venetian blinds will be a breeze in the future. The guide rail is fixed to the spacer completely without tools thanks to the use of a snap connection. The distance to the window can also be adjusted completely without tools via the clamp connection. Reflexa thus reduces the installation time by a full 50% per spacer compared to the previous model. In addition to the standard version, a reinforced version can also be selected for use with cantilevered installations. As if the colour selection from 650 different options were not enough, the new spacer from Reflexa is 100% pure in type, as it is made entirely of aluminium.
Silber - Storenmaterial AG
ECCE headrail bracket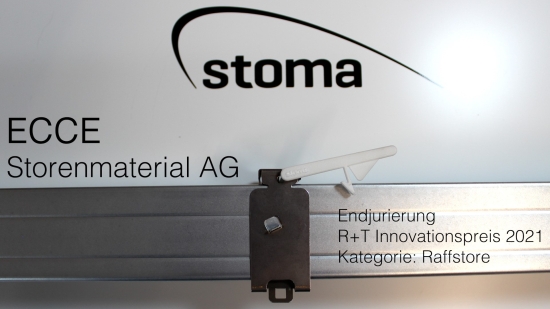 The innovative ECCE headrail bracket for external Venetian blinds with an eccentric locking bracket is different from conventional headrail brackets by the following unique features:
- No tools required for assembly and disassembly of the headrail in the headrail bracket
- Faster assembly than with any other headrail bracket
- Functionally reliable because no screws, rivets, springs, clips
- Suitable for very tight spaces in the lintel due to the small width
- Inexpensive production and pre-assembly because it only consists of two components
-> to KISS (keep it simple and stupid)
Bronze - Storenmaterial AG
 VANTA ++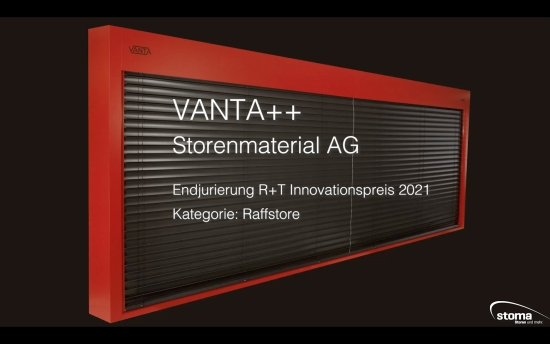 Venetian blinds that do not have textile lift tapes in the slat curtain but laterally lift mechanisms in the guide rails are limited to a maximum width of 3000 mm due to the slat's central slack curtain according to the prior art. VANTA ++ external Venetian blinds are characterized by the fact that the slat curtain is transported by the lift mechanisms in the guide rails and a centrally located steel cable. This central support allows widths of up to 6000 mm without sagging the slat curtain without overloading the side lift mechanisms.
If the bottom rail runs into an obstacle when driving down, the winding element will eject the steel cable, even without tension by the slat curtain's weight, to avoid breakdowns.
Gold - Corradi Srl
Imago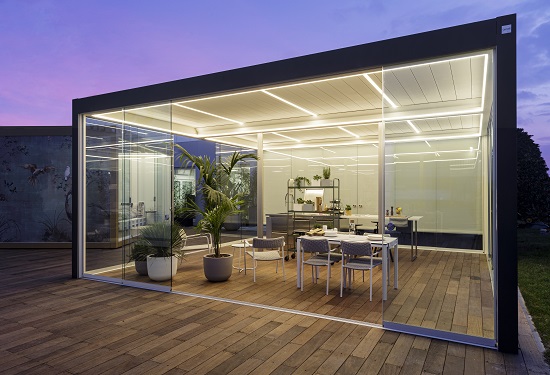 Corradi presents Imago, the new frontier of living outside the home
Imago is the latest project by Corradi. Born from a new vision of the outdoor space, Imago is an outdoor structure with adjustable blades, conceived as an autonomous and ductile entity, available to the function for which it is designed.
Imago goes beyond the concept of an outdoor product to enter the dimension of the space to be lived in. A self-sufficient solution for construction details: platform, pillars, beams in full architectural continuity between them.
Imago also shows off its superior level of integration and flexibility with its many configurations, including e.g. Imago Gourmet, Imago Feeling Good and Imago Dreaming.
www.corradi.eu
Gold - markilux GmbH & Co. KG
markilux pergola stretch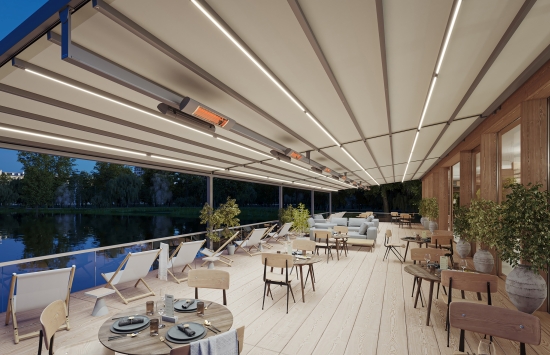 Truly immense and with impressive prospects
The new markilux pergola stretch opens up entirely new possibilities as far as solar and wet weather protection are concerned and therefore also for outdoor living. The cover is perfectly integrated into the minimalistic, high value awning system. The rhythmical, space-saving cover folding technology makes it possible to shade large areas and creates a special and impressive atmosphere. Manifold customisation options mean that the markilux pergola stretch will invariably catch your eye and they demonstrate that it is well prepared for a comfortable and relaxed season – al fresco.
Gold - KADECO Sonnenschutzsystem GmbH
Felt blind Oslo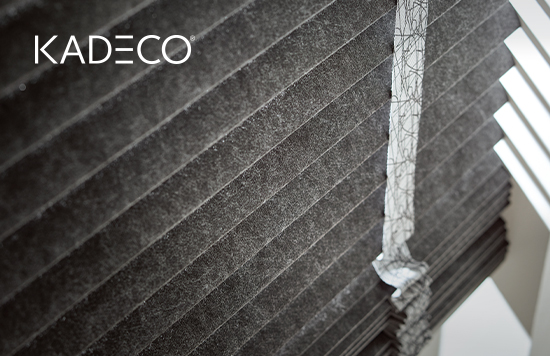 With the Oslo Venetian blind collection, Innovation Award winner KADECO is bringing design felt to the window for the first time and exclusively - all in the spirit of Scandinavian interior influences. The Jalousie from silk-soft polyester material inspires by its natural radiant emittance and its particularly affectionate haptics. It captivates with its naturalness. The traditional look of the material is reminiscent of real natural felt and is underlined by the fine melange effects in restrained color nuances. . The blind made of design felt also convinces in stability and positive influence on room acoustics. It is absolutely easy to clean - by simply vacuuming the slat can be easily cleaned. The Oslo collection includes four colors: a dark anthracite, a stone gray, a delicate light gray and a light beige.
Silber - Style Group - Global International Trading
Antiviraltex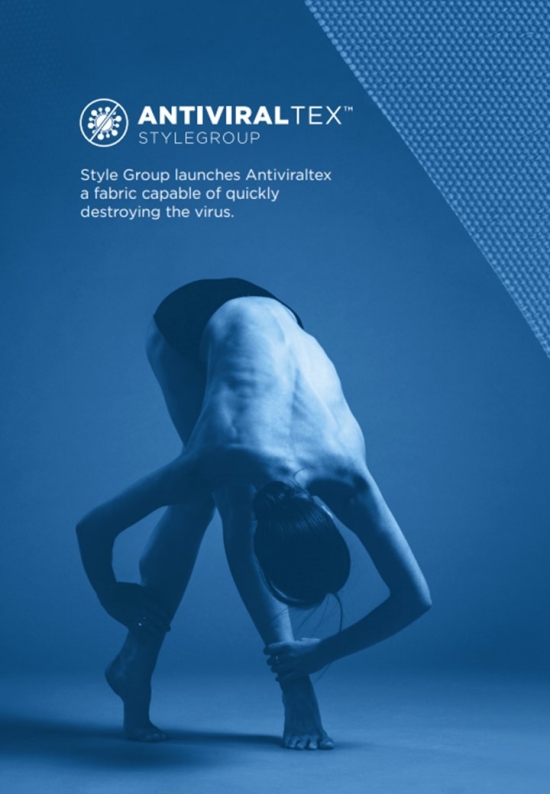 Style Group launches Antiviraltex the first fabric capable of quickly destroying corona virus. Antiviraltex contains silver ion components to deactivate and immobilize the virus, in addition to fatty acid vesicle technology that quickly destroys it by physical contact. Antirviraltex is part of Hightex Fabrics portfolio of brands that incorporate technological innovations introducing a scientific breakthrough for the Industry.
Hightex fabrics are available in Style Group products and please visit our website for more info www.hightexfabrics.com.
A Touch of Style.
Gold - acomax GmbH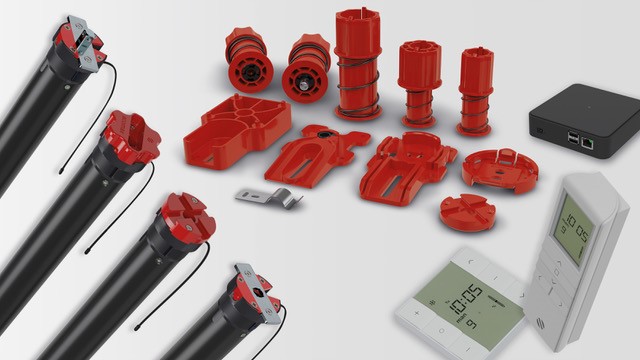 The new generation of tubular motors goes from standard motors up to electronic motors with integrated radio and Wifi receiver for window shutters and awnings.
The devices can be controlled by smartphones, either directly or through bridges or gateways and are compatible with other well known systems.
With the patent registered KLICK accessories a motorized tubed can be installed within only a few seconds.
The company
Since almost 20 years acomax GmbH, located in the South of Germany near Stuttgart is developing, manufacturing and distributing electric tubular motors, control systems, smart home systems and accessories for window shutters and awnings.
Silver - elero GmbH
RolMotion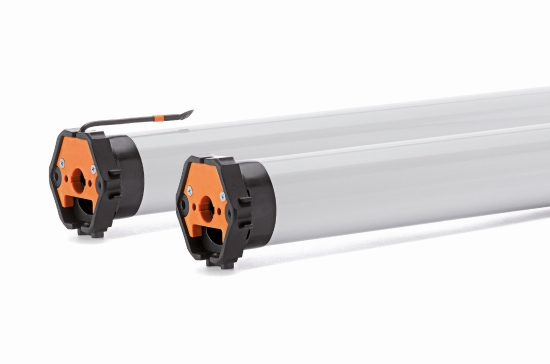 Quiet as a whisper: RolMotion sets new standard in roller shutter automation
Just as the children have fallen asleep again, the roller shutters open automatically – inaudibly, on the entire floor. Whether in offices, hospitals, hotels or conference rooms, the sudden rattling of shutters is often perceived as annoying. The drive and control manufacturer elero from Baden-Württemberg provides a remedy: With the RolMotion product range, the innovative company has developed a drive for roller shutters with ultra-quiet operation. This is a clear advantage, especially in the automatic mode. RolMotion is available as a wired solution or with wireless technology. The D+ variant with Plug+Play and the EnOcean variant complete the range.
Bronze - Guangdong A-OK Technology Grand Development Co., Ltd
Electromagnetic self-locking zip screen system/AM45-ER-ZS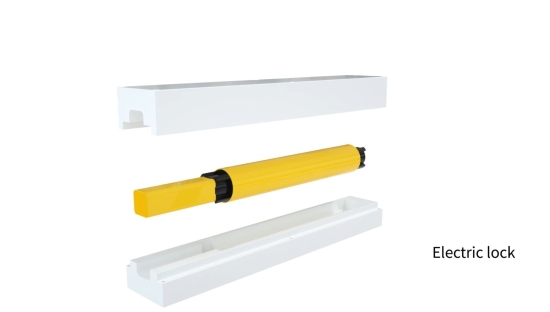 Electromagnetic self-locking zip screen system/AM45-ER-ZS
This is a complete solutions of zip screen system, including Zip screen, AM45-ZS FSK 868MHz 2-WAY communication motor, 2-way communications self-locking components, charging port.
This system has solve one problem, remove the traditional zip screen design with heavy bottom beam, and reduce the load of the motor, in this case, it reduces power comsumption. 2-way communications also ensure the security and stability of the system.

Gold - MHZ
MHZ Solix exterior roller blind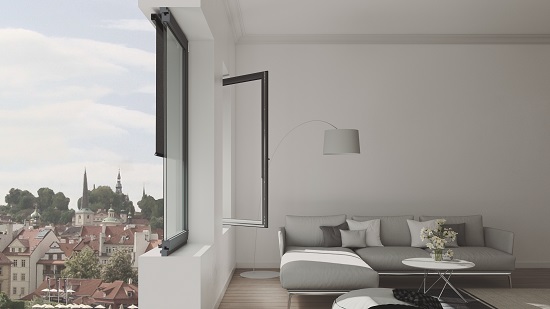 MHZ Solix exterior roller blind with battery drive – So easy to install from the inside
The right sun protection system ensures a pleasant indoor climate as well as optimal light conditions and thus contributes significantly to the quality of living and life. With Solix, MHZ presents a product innovation on the market: the lightweight, battery-operated external sun protection roller blind offers reliable protection against heat and - in the version with insect protection - against insects at the same time. It fits in almost all windows, can be retrofitted very easily and is therefore ideal for existing properties, rental apartments and listed buildings. Installation takes place from the inside, without scaffolding or cable work.
Gold - heroal - Johann Henkenjohann GmbH & Co. KG
Zip-Screen heroal VS Z EM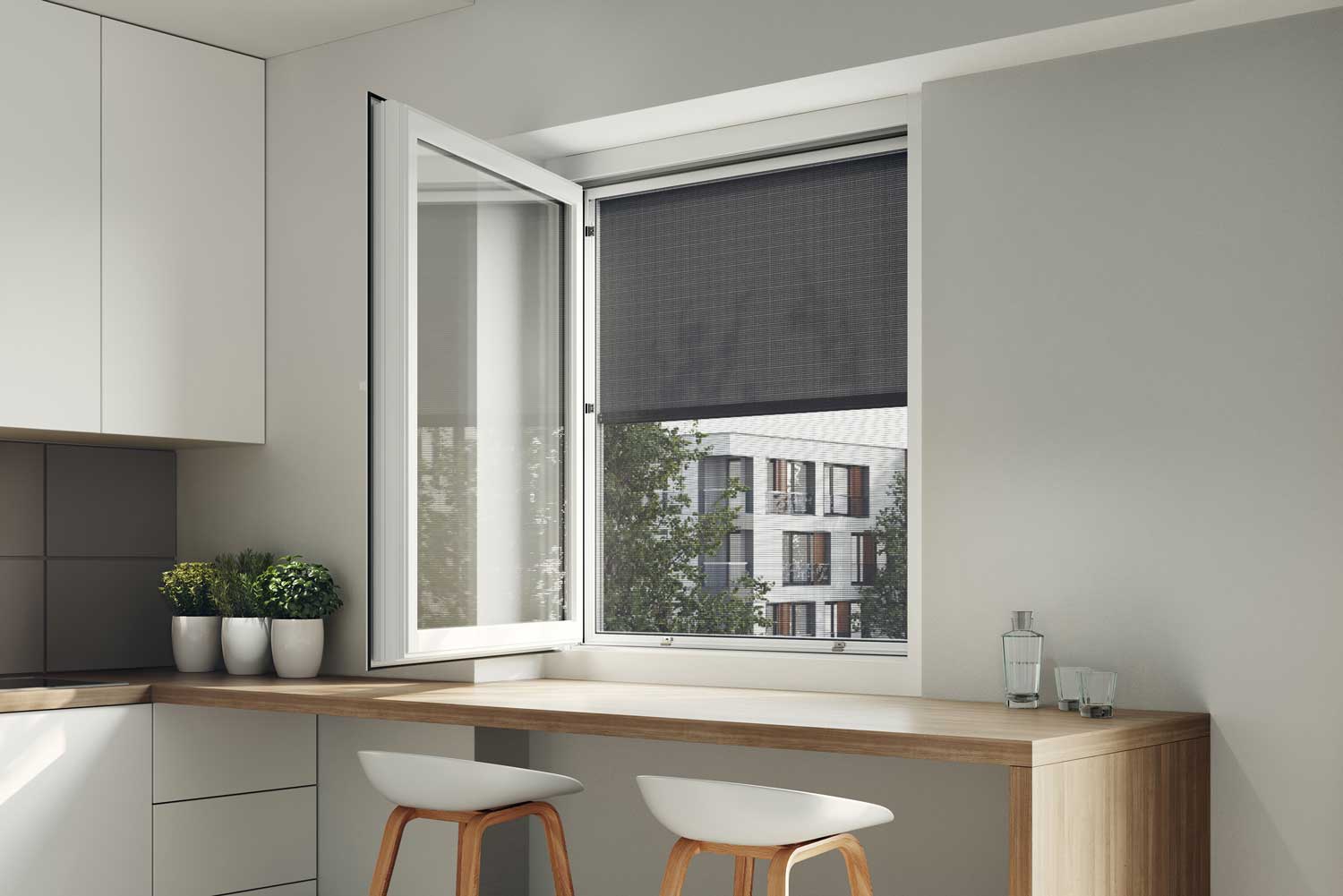 heroal VS Z EM (Easy Mount) is a unique clamp-on zip screen system with solar-powered drive. This outside sun protection uses clips for easy installation and removal, without any special tools or drills in the window frame. Therefore, heroal VS Z EM is ideally suited for rented property, existing or listed buildings. It can be combined with all standard aluminium, PVC or wooden windows. Powder-coated aluminium components and more than 250 textiles offer individual looks. Insect and pollen screens can also be integrated. The stable zip-guidance provides for effective protection against glare, heat and prying eyes, even in strong winds.
Gold - Jentschmann AG
NonVi Keder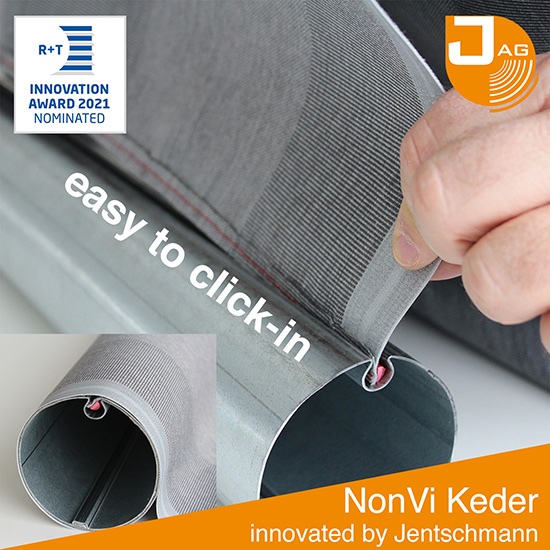 Jentschmann's invisible piping seam
Jentschmann AG from Switzerland entered the R+T Innovation Award with this innovation and is the Gold winner in the category Textile sun protecion. But what is behind this invisible piping seam? The positive effects are not only visually perfect sun protection fabrics and increased water tightness due to the elimination of the piping seam a further effect is an easier installation with less time and effort for the installers. With the use of the half piping, installation is even faster, as it can simply be clicked into the fabric shaft. Therefore, a safety wrap on the shaft is ensured. So, this innovation offers many advantages for everyone involved. We will be happy to advise you at our virtual booth - visit us!
Gold - Meißner GmbH Toranlagen
Greonik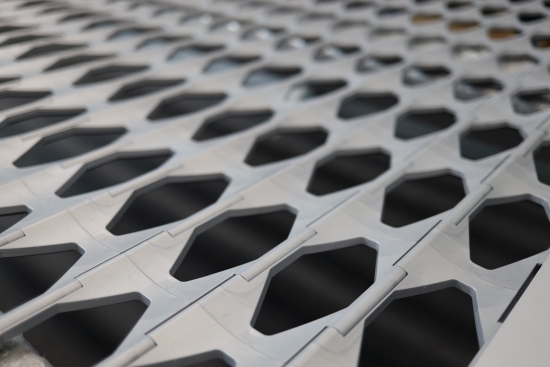 Award-winning sustainability and design for roller grilles
Until now, the rule has been: roller grilles for doors are functional and they are made of metal. With the newly developed Greonik roller grille, the German Meißner Toranlagen GmbH is breaking new ground.
With its diamond-shaped openings, Greonik (Green - Bionik) looks like a classic roller grille. However, the elements are made of 100% recycled material. Thus the idea of sustainability is consistently pursued.
The individual openings can be closed with inlays. In this way, the same roller grille can be upgraded with protection against martens, with design elements or even become a roller shutter. With coloured elements and inlays, Greonik offers almost infinite design possibilities.
Greonik was awarded the R+T Innovation Prize in the category "doors" in 2021.
Silver - proMesh GmbH
alphamesh safety system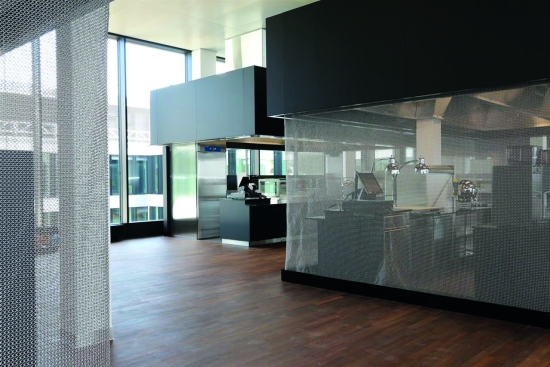 With a technically high quality and architecturally appealing appearance alphamesh safety systems from proMesh GmbH is presenting itself for the first time at the R+T. The protective device, consisting of a fine, seamless ring mesh, is a creative alternative to the known roller shutters and was specially designed for shop fitting, but it also offers a wide range of possible uses in building security concepts, e.g. for shopping centres, trade fairs, stadiums or airports. This day- and night closure system dispenses with any floor or guide rails and is therefore easy to clean and 100% barrier-free. In addition to the electromagnetic locking system and the almost noiseless electric drive unit, the flexibility of the metal mesh allows the implementation of customer-specific solutions in almost any shape.
Silver - GfA ELEKTROMATEN GmbH & Co.KG
universal GfA anti deflection device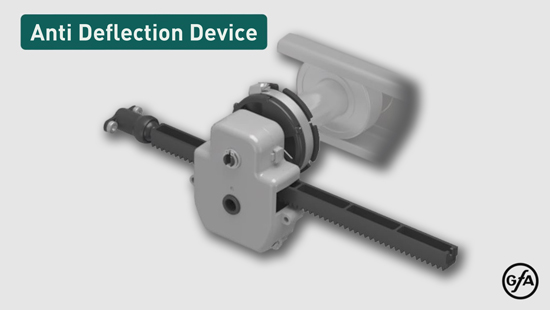 Anti Deflection Device for roller shutters
The universal GfA anti deflection device optimizes the door movements of roller shutters with moving-torque bracket. Available for new doors or retrofitting, it stabilizes the door movement by precisely controlling the door shaft and avoiding the undesirable stick slip effect (e.g. a wiper rattling on a windscreen).
This allows up to three times higher door speeds. Consequently, the proven door type, with its efficient thermal sealing and low wear, can now be used in many new fields of application. The GfA anti-deflection device is made of synthetics and has compact dimensions. This makes it an inexpensive and easy-to-use solution. The perfect addition to the proven roller shutter with moving-torque bracket – the final touch.
Gold - FACE S.R.L.
SUPERCAPACITOR technology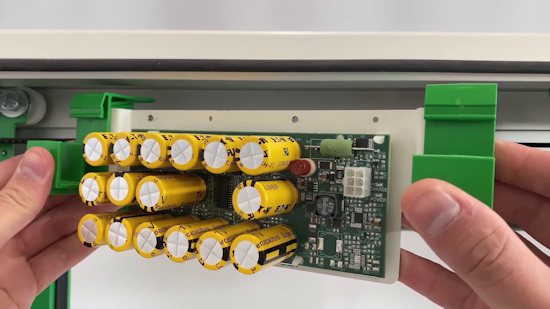 FACE AUTOMATIONS HAVE BECOME: BATTERY FREE
First off the mark once again, we've designed a new range of devices for automatic opening in the event of a power failure, using SUPERCAPACITOR technology, in place of the old devices with LEAD BATTERIES used in both redundant sliding automations and standard ones.
It's clear that by using FACE SUPERCAPACITOR technology, we're making a significant tangible contribution to the protection of the environment and at the same time obtaining enormous savings on maintenance costs.
The SUPERCAPACITORS in fact have a lifespan 6.7 times longer than that of BATTERIES
SUPERCAPACITORS=20 years BATTERIES=3 years
Silver - GfA ELEKTROMATEN GmbH & Co.KG
ELEKTROMATEN 4.0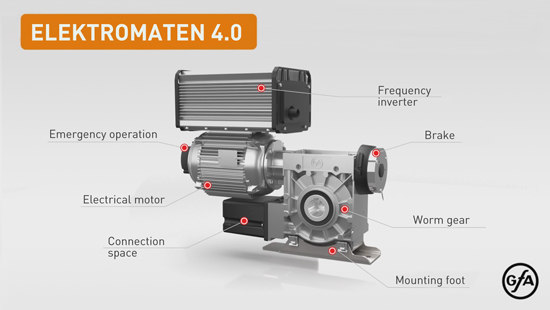 The ELEKTROMATEN 4.0, our latest industrial drive unit, serves as a building block for implementing the digital building. It uses newly developed sensors to detect, apart from the doors position, other additional data, such as vibrations, forces on the shafts and oil and ambient temperatures. The data is transmitted to the door control and evaluated. This allows the status of the door to be constantly monitored, failures are quickly detected, operation is optimised and maintenance can be planned as needed. The data is then transferred to the cloud where it is available to all authorised users and devices (IoT). Integration into a complete building infrastructure is possible, with inclusive remote diagnosis and control.
ELEKTROMATEN 4.0 – a building block of the digital building.
Bronze - SOMMER Antriebs- und Funktechnik GmbH
Telecody Courier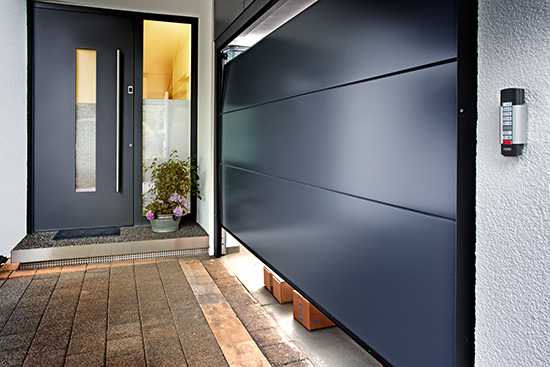 The Telecody Courier from SOMMER Antriebstechnik is the Bronze winner in the category drive and control systems for gates/doors of the innovation prize of the R + T trade fair in Stuttgart. The system enables parcels to be stored safely in the garage by partially opening the door, either by entering a numeric code or by pressing a red button. The delivery service can deposit a parcel in the garage. The door closes again automatically after a predefined time. The packages are safe and well protected. The transmitter is based on the 12-command handheld transmitter Telecody +, which can be attached to the outside of the garage door with an aluminum wall bracket.
Gold - REFLEXA-WERKE Albrecht GmbH
RaffSun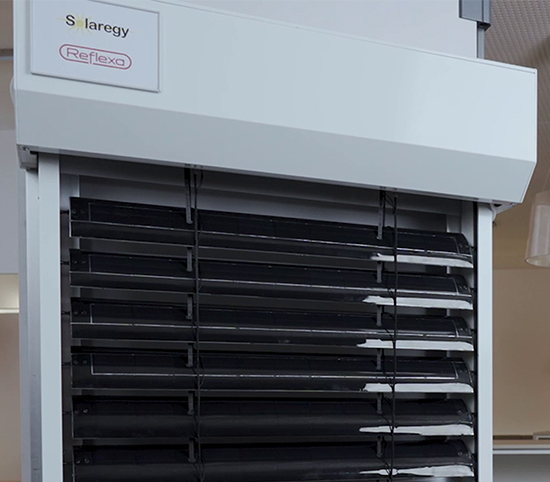 With RaffSun, Reflexa and the start-up Solaregy join forces. RaffSun combines solar shading with the generation of green energy on window surfaces that are almost infinitely available. The external venetian blind generates electricity via the slat curtain fitted with solar cells, which can be dissipated via the guide nipples into the lateral guide rails thanks to an innovative technology concept. The solar slats are manufactured using a specially developed process and can always be aligned at the perfect angle to the sun using an intelligent control system to achieve the best possible electricity yield. RaffSun is controlled via a supplied app or integrated into building automation and smart home systems. Window surfaces will become green power plants in the future. With RaffSun, we are taking a decisive step towards sustainability.

Silver - Becker-Antriebe GmbH
BoxCTRL drive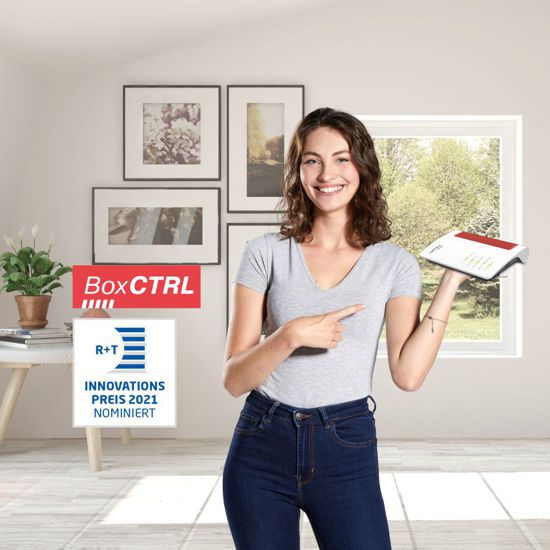 With the new BoxCTRL drive generation from Becker, FRITZ!Box users can now control their roller shutters via the the DECT ULE HAN FUN radio standard – without the need for additional central units, gateways or actuators from third-party suppliers. The BoxCTRL drive can be easily connected to the FRITZ!Box from AVM at the touch of a button. Since the HAN FUN protocol is also used in other Smart Home products, the FRITZ!Box gradually becomes the smart control centre for home automation. The BoxCTRL drives can be operated flexibly: via the FRITZ!App Smart Home on the smartphone, with the FRITZ!Fon C6 / C5 or classically on site with the FRITZ!DECT 400 / 440 push buttons or a wired single push button.
Bronze - KADECO Sonnenschutzsystem GmbH
MOTION engine range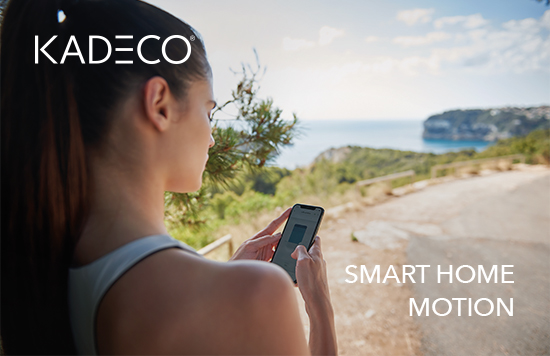 Simply and smart: MOTION - awarded the Innovation Award 2021
Controlling vision, blending, and sun protection has never been easier - with the MOTION engine range from KADECO, absolute comfort is brought into the home. MOTION always ensures cosiness and the desired privacy, no matter when and no matter where – thanks to the convenient app control, the sun protection can be easily controlled from anywhere in the world. Through various timers and programmable scenes, MOTION always makes the home look inhabited, even when you are just relaxed on holiday. A smart motorization option and also compatible with many smart home systems, such as IFTTT, mediola, Google Assitant and Amazon Alexa.
Gold - Neher Systeme GmbH & Co.KG
Transpatec insect screen fabric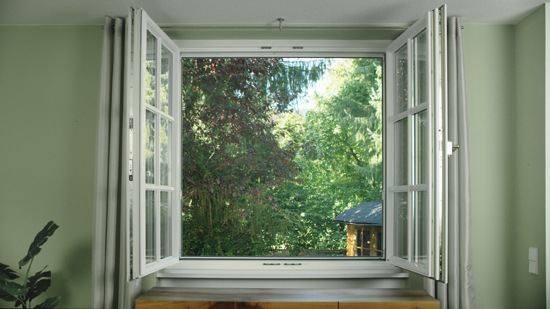 Neher Transpatec now with anti-soiling function
Neher's Transpatec insect screen fabric has been sold millions of times in recent years. The advantages of this product "Made in Germany" are obvious: it is almost invisible, maximally air-permeable as well as extremely stable and durable. The patented weaving technology also ensures high cross-point strength. With the new water-based anti-soiling coating, it is now also practically self-cleaning. Thanks to its environmentally friendly production and materials, Transpatec even meets the criteria of the Oeko-Tex Standard 100 for products that come into contact with the skin. Neher offers the new fabric with these additional functions at the same price as the previous Transpatec.
Silver - PARÀ Spa / weinor GmbH & Co. KG
modern basics blue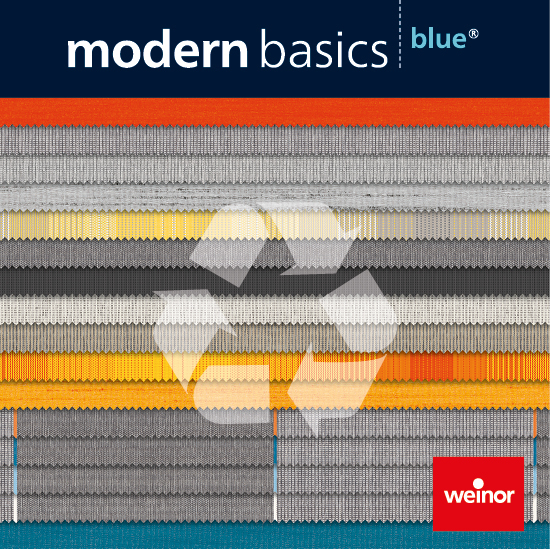 As the first sustainable awning fabric selection with 85 percent recycled PET, modern basics blue® from weinor scores with contemporary designs and resource-saving production. The high-quality cloths are made of Tempotest® Starlight® blue, a sun protection fabric from Parà Tempotest® certified according to the Global Recycled Standard (GRS). This joint development by weinor Design Studio and Parà has a much better environmental balance sheet than conventional polyester cloths: the production process for recycling PET bottles consumes around 60% less energy and produces around 45% fewer CO2 emissions. Spinneret dyeing additionally saves approx. 90 % water compared to conventional yarn or piece dyeing. The 16 cloths feature modern designs in trendy colours - for contemporary outdoor living.
Bronze - Julius Koch GmbH
lift tape Webtex® G2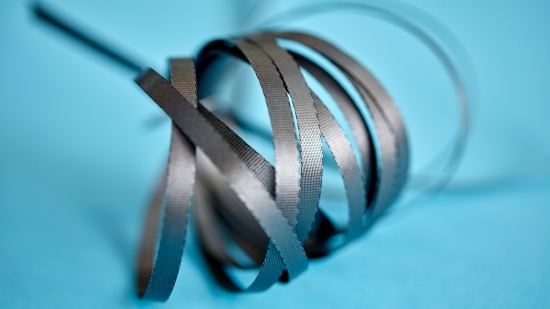 The new lift tape for outdoor blinds is the result of an intensive testing and development process and represents the particular strength and durability expected from this extremely loaded product component. Webtex® G2 was developed in cooperation with the TU Dresden, with a special focus on thickness, stiffness, UV-resistance and breaking strength. The innovative lift tape for outdoor blinds is produced in 6 mm and 8 mm width and is available in black and grey. Customer-specific variants are possible.
Gold WAREMA Renkhoff SE
Sound-optimised box for top-mounted external venetian blinds for new buildings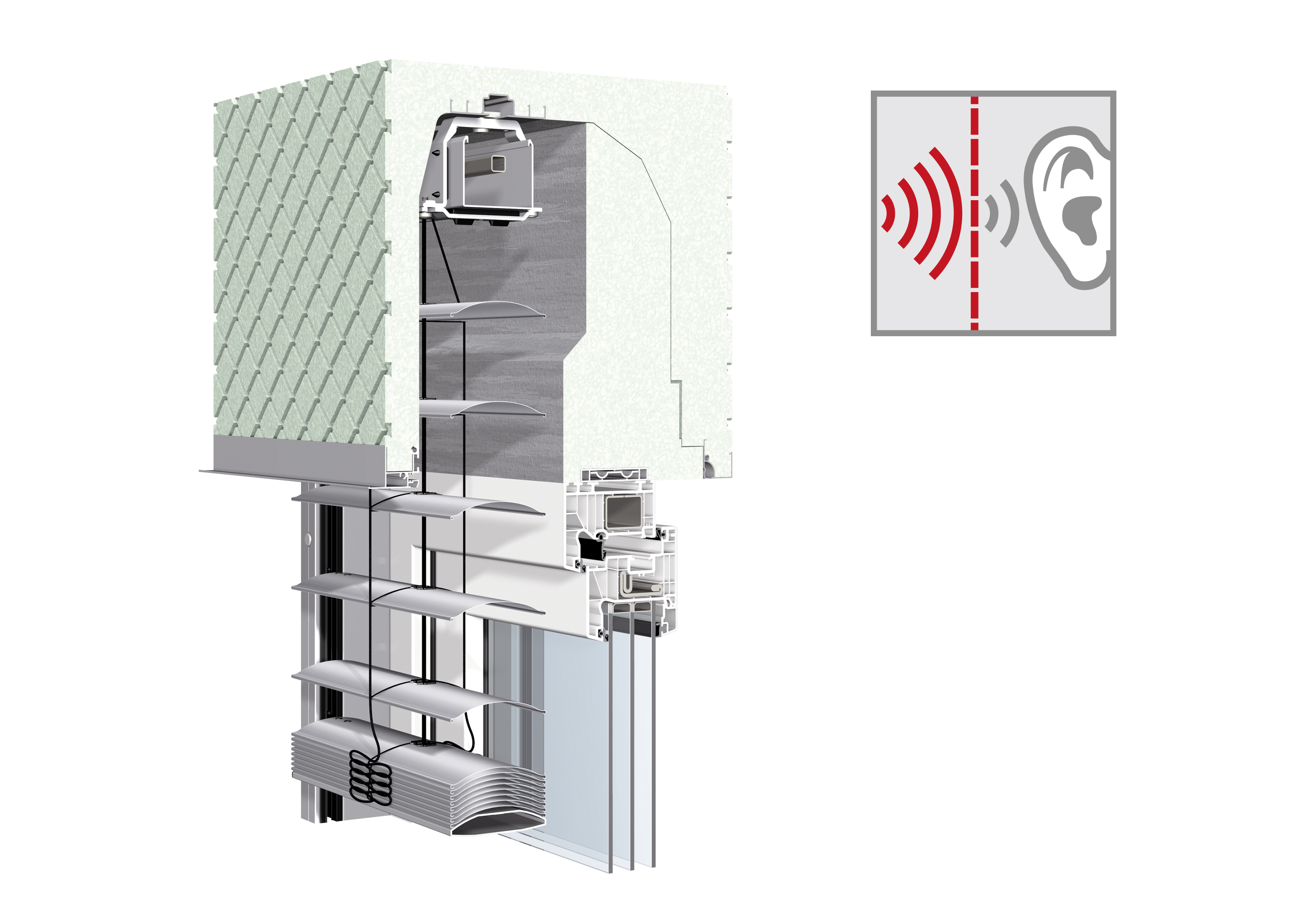 As increased traffic and urban consolidation lead to increased noise, sound insulation is gaining in importance for urban construction projects. Warema's completely redesigned box for top-mounted external venetian blinds for new buildings guarantees significant improvements in noise insulation. The aligned layer structure of the sound-optimised box reduces external noise levels by almost 47 decibels. This solution – which is to become standard in the future – meets increased sound insulation requirements and enables users to relax at home and work in peace. At the same time, the thermal insulation parameters of the product remain unchanged. The new functional principle includes a fully integrated sound insulation package in the scope of delivery, making planning and installation no different from previous models.
Gold - Neher Systeme GmbH & Co.KG
insect screen pleated blind PL2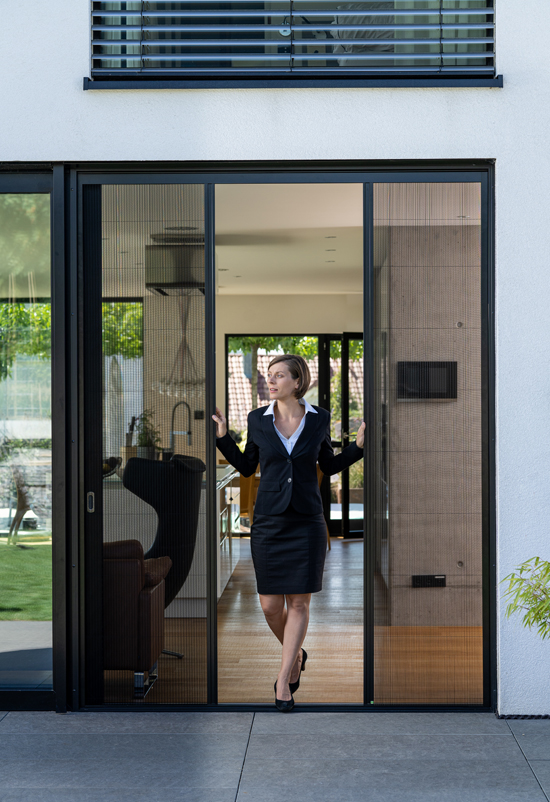 The new Neher insect screen pleated blind PL2 convinces with innovative details
The PL2 pleated blind, which is only 22-millimeters narrow, has already been the fastest-growing product in the Neher portfolio since its market launch in 2019. Optimizations in the design and materials reduce friction, increase ease of use and ensure a longer service life.
With the new fabric holder (patent pending), very large elements up to 5 x 3 meters can now be realized with a long service life. With the Neher PL2 pleated blind, the fabric no longer stands up on the bottom track or rubs against the tension cords, ensuring much easier and
longer-lasting operation. In addition, the fabric retention increases in windy conditions.
Silver - HELLA Sonnen- und Wetterschutztechnik GmbH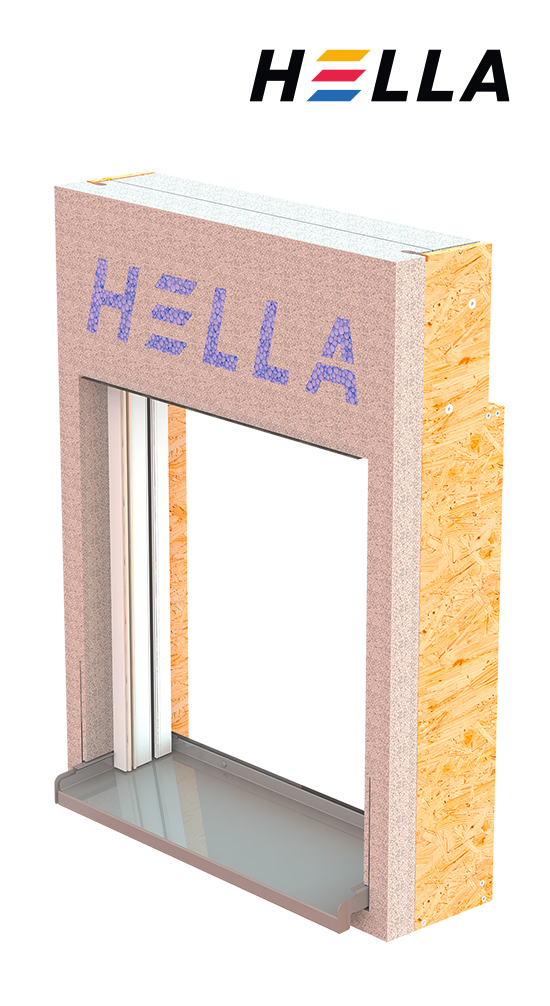 New sun protection system solution for timber construction
Hella offers timber construction professionals a simple and safe solution which combines all trades around the window. It allows the integration of pre-assembled sun shading products into a complete system solution. With this product innovation, the Hella group optimises the challenge of window openings in timber construction. A prefabricated complete system consisting of frame, window sill and integrated sun and insect protection replaces the installation of single components in the wall openings. This brings numerous
advantages such as the reduction of gaps in the construction, plaster cracks and thermal bridges to a minimum. A second sealing layer avoids the ingress of driving rain. The high degree of prefabrication also makes the handling of TRAV Integral easy, faster and calculable during installation.
Design
KADECO Sonnenschutzsysteme GmbH for Design-Filzjalousie Felt blind Oslo
proMesh GmbH for alphamesh safety system
Sustainability
PARÀ Spa / weinor GmbH & Co. KG für modern basics blue
Energy efficiency
REFLEXA-WERKE Albrecht GmbH for RaffSun
Nominierte Unternehmen
Nominees
acomax GmbH
Becker-Antriebe GmbH
Corradi Srl
Elero Antriebstechnik GmbH
FACE S.R.L.
GfA ELEKTROMATEN GmbH & Co.KG
Giovanardi SNC
Guangdong A-OK Technology Grand Development Co., Ltd
HAVERKAMP GmbH
HELLA Sonnen- und Wetterschutztechnik GmbH
heroal - Johann Henkenjohann GmbH & Co. KG
Jentschmann AG
Julius Koch GmbH
KADECO Sonnenschutzsystem GmbH
markilux GmbH & Co. KG
Meißner GmbH Toranlagen
MHZ Hachtel GmbH & Co. KG
Neher Systeme GmbH & Co.KG
PARÀ S.p.a.
proMesh GmbH
Rademacher Geräte-Elektronik GmbH
Reflexa-Werke Albrecht GmbH
Sauleda SA
Serge Ferrari SAS
Solar Breaker Sp. z o.o.
SOMFY GmbH
SOMMER Antriebs- und Funktechnik GmbH
Storenmaterial AG
Style Group - Global International Trading
WAREMA Renkhoff SE
weinor GmbH & Co. KG
Winsol NV