The fast track to the fair
27 minutes without changing trains: The fastest connection between Stuttgart's main station and the trade fair is provided by two urban railway (S-Bahn) lines, which run almost around the clock. The Messe stop is only 200 m from the entrance. A new tram network connection will offer even more options in the future.
More information on Stuttgart's public transport association (VVS).
In addition, you can arrive by bus at the Stuttgart Airport Bus Terminal for regional and long-distance busses.
Find more information on the local bus lines.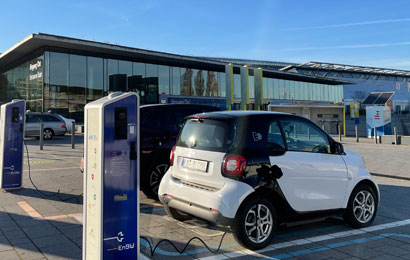 Taxi and sharing services
You can find taxi ranks, as well as VIP and shuttle bus access right in front of the entrances to the trade fair and the ICS.
If you want to create your own made-to-measure travel solution, you can choose from a wide range of car-sharing providers and rental bikes on site.
More information on car sharing.