Decisive arguments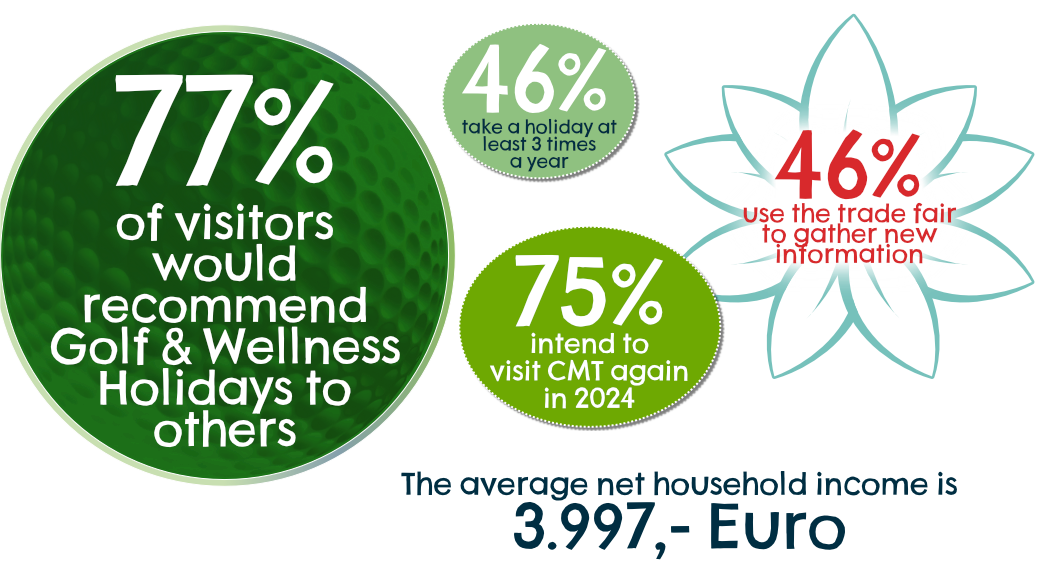 Golfers with purchasing power, wanderlust and a need for information*
the average net household income is € 3,997
77 % of visitors would recommend Golf & Wellness Holidays to others
75 % plan to visit the trade fair again in 2024
62 % have already made a purchase at the trade fair, or intend to
46 % take a holiday at least 3 times a year
28 % travel from a distance of over 100 km
17 % come from Bavaria, Rhineland-Palatinate, Saarland or Hessen
46 % use the trade fair to gather new information
the average age is 45,1
*Source: Visitor and exhibitor figures for Golf & WellnessTravel 2023
"We again saw a noticeable increase in interest this year. The trade fair and the organisation are the best there are in this field. We will aim to integrate even more clubs in the future, and will be back next year – it's a firm appointment in our calendar."

"This was our second year at the trade fair, and following the success of last year we immediately doubled our stand space. So we are all the more surprised that this year managed to surpass last year. We had some good discussions with interested visitors, and are particularly impressed by the location in Stuttgart. There's no question that we'll be back again next year."

"The four days of the trade fair were absolutely positive for us, and well attended. In particular, we were able to have highly individual contact with the visitors. The success is immediately apparent, so we'll definitely be back next year."

"Golf and Wellness Holidays has been a crucial element for us for the past 12 years, and it's always a major highlight. Every day was well attended and we are completely satisfied – we'll be happy to return."

"We attend the trade fair every year and always leave with a good impression. Our aim is to make golfers aware of our tour operators, and we succeed in doing that every time anew. The visitors to the trade fair are the perfect target audience for us, and an important source market. The planning and support from the trade fair team were perfect. We are already planning for next year."

"We and our co-exhibitors are highly satisfied with the excellent start to the fair and the consistently impressive visitor numbers. We received lovely feedback from our customers. We conducted lots of quality, high-value discussions with a very interested and relevant audience. Visitors gained extensive information from our stands. Hall 9 will continue to be very attractive for us."

"We have a positive view of Golf and Wellness Holidays 2020 because the trade fair was very interesting for us. We welcomed a lot of customers to the stand, who approached us specifically, and who fitted our target audience profile really well. Not only the many people interested in wellness, but also the many golfers visiting the hall, offer true added value. We have good discussions with well-informed customers, and are more than happy with the location of our stand in hall 9."