GELATISSIMO says Thank you!
... to more than 100,000 visitors
... for their enthusiasm for the broad offering at the trade fair duo comprising INTERGASTRA and GELATISSIMO.
... for their interest in brand-new products and trend-setting ideas.
... for their participation in the 3rd Grand Prix GELATISSIMO, the many live shows and the workshops of prominent gelato professionals.
Facts & Figures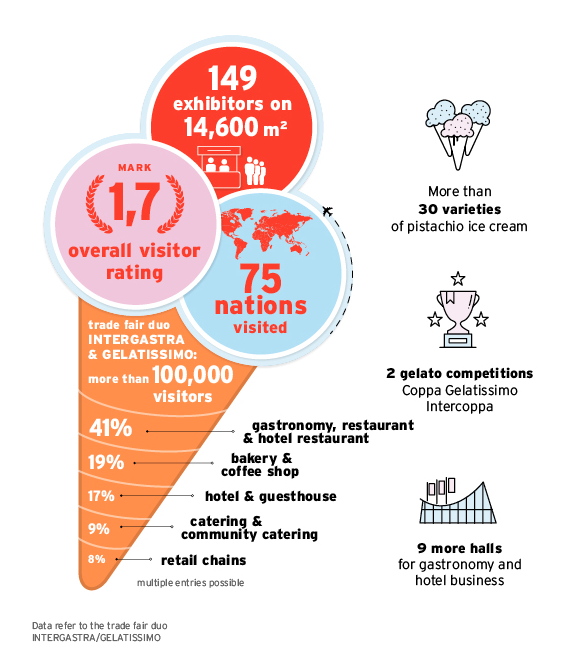 Exhibitor testimonials
We were totally impressed by the trade fair, the trade visitors and the superb organisation by Messe Stuttgart.

We exhibited at Gelatissimo for the second time and were very satisfied. As expected, this year turned out to be even more successful for us than 2018. The trade visitors were again very diversified and came from all over Germany and many different countries. In addition to existing customers, we also met many new customers.

We took part in Gelatissimo for the third time. This year's edition was really fantastic for our company. The first Gelatissimo was okay, the business was much better the second time around and large numbers of trade visitors came to our stand this year with specific inquiries. Gelatissimo is the most important trade fair for our business in Germany. Our forecast for next season is very positive.

Gelatissimo is an important trade fair for gelato production in southern Germany. It is an important platform for presenting new products and concepts, exchanging ideas and selling our products. Thanks to the open trade fair concept and the good infrastructure, it is possible to quickly obtain new impressions from associated areas of the eating out market. An attractive trade fair our customers from ice cream parlours.

Gelatissimo is one of the most important trade fairs for our market. We have therefore been present right from the start. The importance of this trade fair in Stuttgart is increasing every time. Many of our customers prefer to come to Stuttgart rather than Rimini; they meet us for specialist discussions and exchange ideas and experiences regarding old traditions of gelato production and new products.

Gelatissimo was once again a very good trade fair with many successful meetings for our company. Above all, I was pleasantly surprised by the quality of the specialist discussions.

We are experiencing a crescendo every time the trade fair is held. Firstly, in regard to the exhibits, but also with the response by trade visitors. Compared with other trade fairs, Gelatissimo is very well-positioned in terms of logistics. During Gelatissimo we see many new faces, experts who want to start something new and make a difference. In particular, we regard the combination with the coffee halls as very positive and as an important synergy effect.
Intergastra is our key trade fair. The customers which have their company in Germany, Austria and Benelux come to Gelatissimo in Stuttgart. It is noticeable that the catchment area is becoming wider. Long-standing customers are also constantly impressed by the trade fair. If it carries on developing, we will soon have to a create a second hall.

We are faced with a large number of changes in the food sector: eating out, fast cooking, digitalisation, a shortage of skilled workers. The trend is therefore towards high-end convenience products for which the trade fair offers corresponding solutions.
Our concept is a trade fair in the trade fair. Since we were placed in the food hall for the first time this year, we benefited from a very good flow of new customers, i.e. buyers, users and hoteliers.

In our opinion, Intergastra 2020 set an absolute benchmark.
Both in terms of the programme and the content coupled with superb infrastructure, an industry hot spot has developed here that is now actually located on the world map with the IKA.

Intergastra has always been a very important trade fair for Blanco. Over the years it has been transformed from a regional trade fair into a nationally recognised event for trade visitors. Intergastra is also talked about internationally. No other trade fair is so well organised or so well connected. The airport is very close by and travel by car or rail to Intergastra is convenient.

We had many first-class contacts at Intergastra, and increased this number once again. We thought that the combination of the IKA/Culinary Olympics and the trade fair was very interesting. This is a great asset and an absolute added value.

Intergastra is an extremely important event for our company. Thanks to the perfect organisation by the trade fair management and the good allocation of the exhibition halls, the mood among visitors was very positive. We were therefore able to ideally present our company through our latest products and during many interesting discussions. Intergastra makes great efforts to present itself as an exciting and young event.

That was an exciting trade fair! On many occasions there wasn't even standing room on our exhibition stand. The focal points were robotics, our digitalisation strategy and automation concepts. The main visitors to our stand were large customers and retailers who are preoccupied with gastronomy of the future. A super trade fair!

We regard Intergastra as the leading German trade fair for our sector. It was also successful again this year with many new contacts from the area of gastronomy.

Intergastra was once again an excellent trade fair for our winegrowers with a large number of new contacts and successful discussions. In our opinion, the organisation by Messe Stuttgart is first rate.

Intergastra is one of the most important industry meeting points for our company.
We can cultivate our long-standing contacts here and, in particular, establish new networks.

Intergastra in Stuttgart is a home game for us and proved to be very successful once again for our company.

The Stuttgart Coffee Summit was held at Intergastra for the fifth time. It is good to see how structures are being reinforced and how the general interest in coffee is increasing significantly. When we started, coffee only represented a small part of the trade fair. We now fill an entire exhibition hall. A large number of product innovations are presented in Stuttgart. The trade fair and the Stuttgart Coffee Summit have become more international and developed into the largest coffee event in Germany. A first-class symposium with experts from all over the world is staged concurrently with the Stuttgart Coffee Summit. This symposium again proved very popular with trade visitors this year.

Intergastra is very important for our business. Our experience shows that the trade visitors know a great deal about coffee, ask specific questions and come to the trade fair well-prepared. The focal point in the hall offers numerous advantages both for visitors and exhibitors. In particular, we use the synergies created through cooperation with the Stuttgart Coffee Summit. The topics in this exciting and interesting marketplace also went down very well with our customers.

We exhibited at Intergastra for the first time and were impressed with the success of the trade fair. The visitors showed a great deal of interest. Since a large number of decision-makers from restaurants and cafés were present, we received very specific orders.


The trade fair was a great success for us. As always, the Monday was very busy. However, the other days were also well-attended. The stand area functioned very well. Intergastra is very important for our company as a place to forge contacts. This subsequently leads to good partnerships in the long term.

Intergastra has become the most important trade fair for our company in the last few years. This trend was also reaffirmed in 2020. We held some first-class discussions while our exchanges with customers and partners were meaningful.

Once again we were impressed by the quality of the contacts which we forged and cultivated at Intergastra over the last few days. More than any other trade fair Intergastra enables us to carry out intensive networking with interested hoteliers and partners. We also take away many specific new suggestions from exhibitors and trade fair visitors for our work on behalf of the industry in Berlin and Brussels.

Visitors to the stand of the Federal Employment Agency were able to profit in many ways at this year's Intergastra: the concept of offering companies their own area on the stand of the Federal Employment Agency proved to be highly successful. For example, people looking for jobs or training places were able to hold a personal discussion directly with personnel managers from the companies. The offer was completed by a huge job wall through which visitors obtained direct information about current job vacancies and with some luck could even directly introduce themselves personally to the recruiting companies at the trade fair.