Top rankings for Cycling & Hiking Holidays 2023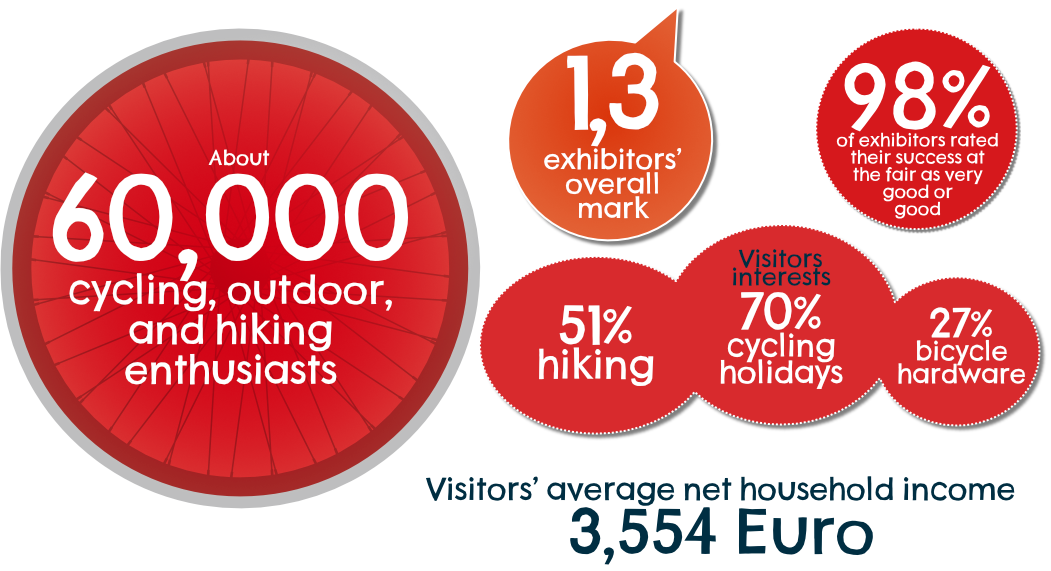 Market place with top rankings
Fahrrad- & WanderReisen 2023 achieved great success. On the three days of the first CMT weekend 200 exhibitors met around 60,000 interested visitors. Fahrrad- & WanderReisen is therefore undoubtedly the number one meeting point for nature lovers, outdoor freaks and active holidaymakers.
Visitors:
Approximately 60,000 cycling, outdoor, hiking and thermals enthusiasts
27 % travelled more than 100 kilometres
70% are interested in cycling holidays, 51% are interested in hiking trips and 27% are interested in cycle hardware
49% of visitors are male, 51% are female
their average age is 52
their average nett household income per month is 3,554 euro
78% of visitors intended to make a purchase during the trade fair
88% of visitors want to make a purchase/booking following the trade fair
82% rate the trade fair as very good/good
96% would recommend the trade fair to others
95% rate the show as wholly comprehensive or partially comprehensive
visitors attend the fair for an average of 5.0 hours
Exhibitors:
360 exhibitors from 17 countries
exhibitors gave the trade fair a grade of 1.3
93% rated their attendance at the show as successful
98% rated the trade fair as very good or good
Source: Visitor and exhibitor figures from Cycling & Hiking Holidays 2023
Exhibitor opinions 2023
"We took part in CMT once again. e-bikes and holidays go very well together. We are delighted that we can go to exhibitions again. It is very important for us to talk to people in a live setting. In particular, this weekend with the key topics of cycling and hiking was also ideal for us. We are actually almost regular guests and will certainly also come back again next year."

"We have exhibited at CMT on numerous occasions and always find it fantastic. The exhibition stands are full, and the halls are crowded with people at 10 o'clock in the morning. We enjoy CMT very much and will also come back again."

"We wanted to come two years in succession. However, since CMT was cancelled due to the corona pandemic, we are now all the more delighted that the exhibition is finally being held again. On Saturday our stand was very crowded right from the start. There were slightly fewer visitors on Sunday. However, CMT is definitely worthwhile. You could see that people were unable to come to CMT for two years and now really wanted to find out what's going on. CMT is certainly very important for our target visitors and, as things stand at present, we would love to come back again."

"It was our first time at CMT and we were extremely impressed. The exhibition was very crowded and we were always talking to people. It was also our objective to be an attention-getter. We certainly attained this objective here. We were always busy. We will now have to wait and see what happens after the event. However, we can well imagine that we will also take part in CMT next year. Last year, we were present at six other exhibitions in Germany. Compared with them, we were extremely satisfied here in Stuttgart."

"We exhibited at CMT around five times before the corona pandemic. We were very pleased this year. Seven years ago, there were still far more hiking enthusiasts here. We were more like exotics. This year, our stand attracted a very large number of people who had already heard about us and were looking forward to getting to know us. I was very satisfied with the exhibition. At other exhibitions, we often just tag along. Here at Messe Stuttgart, however, we also feel very well-looked after and appreciated as a small organisation. If the exhibition wants to have us again, we will certainly come back."

"We are present every year. CMT and also Fahrrad- und Wanderreisen – an exhibition within an exhibition - are a must for us at the start of the year. Especially after two years, it is marvellous to finally talk to people again. In particular, the subsidiary show is always very popular and was very busy. We held some really good discussions. The people were interested, already knew a great deal and asked specific questions. The mood was fantastic. You could see that people were interested in the exhibition and were pleased to be here. We will also certainly come back again next year."

"We have exhibited a few times in the past at CMT and were delighted to be here again this year. On Saturday we talked to people almost non-stop. The visitors on Sunday were entirely different and slightly more cautious. But more children were also present. However, both days were fantastic. In our opinion, people want to experience new things again and see new aspects. We are very satisfied. Of course, it was also marvellous to finally meet colleagues from other regions again after a two-year break."

"We were the partner country for CMT in 2020 when we "tasted blood". We have now taken part in Fahrrad- und Wander-Reisen three or four times. We saw that our offering in Montenegro – especially in regard to active holidays involving hiking, cycling and camping – went down very well in Stuttgart. This year we were only represented at Fahrrad- und Wander-Reisen, but also hope to take part in CMT next year."

"In the past we had a larger stand at CMT. We then stayed away for a few years because the exhibition lasts so long, the costs had risen and the partners and regions therefore decided not to participate. This meant that we were not represented for many years. Fahrrad- und Wander-Reisen now provided us with an opportunity to present our active tourism – this is very important in Poland, especially after the pandemic. A large number of travel organisers who offer active holidays noticed that the number of bookings is increasing as a result. We therefore thought that it would be okay to come back to Stuttgart with a small stand as a pilot project for these three days. I must admit that the level of interest was enormous. Although Poland is still uncharted territory for many people from the Stuttgart region, the interest was tangible – especially among young visitors. In short, we are pleased to have taken the opportunity to exhibit for three days here in Stuttgart. We may come back next year with a larger stand, and then also directly in Hall 4 for the entire period."

"We exhibited at CMT many times in the past. We also like being here because we meet an incredible number of people and also many exhibitors, especially from southern Germany, with whom we can exchange opinions and experiences. After a break of two years, there was enormous demand this year. We believe that people have great pent-up demand. In the last few years we also missed the feedback at the start of the season. Everyone was pleased that CMT is now being held again as a live event. The mood was very positive. I am firmly convinced that we will come back again next year."