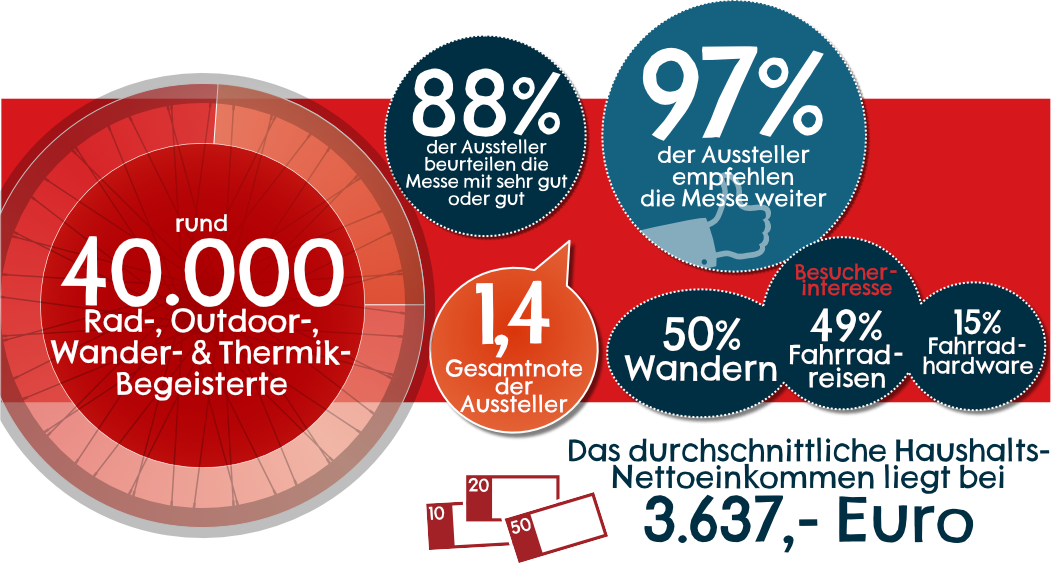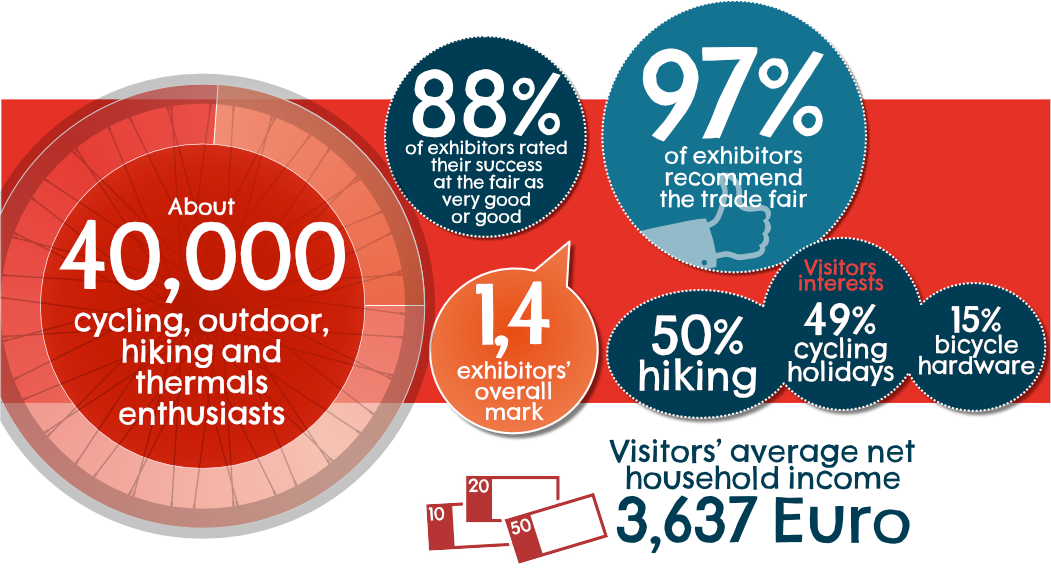 Market place with top rankings
In 2020, Cycling & Hiking Holidays yielded terrific success figures. On the two exhibition days on the first CMT weekend, 360 exhibitors met around 40,000 interested visitors. This makes Cycling & Adventure Holidays the #1 for nature enthusiasts and active holiday makers without a doubt.
Visitors:
Approximately 40,000 cycling, outdoor, hiking and thermals enthusiasts
23 % travelled more than 100 kilometres
40% are interested in cycling holidays, 40% are interested in hiking trips, 39% want adventure trips, and 23% are interested in cycle hardware
45% of visitors are male, 55% are female
their average age is 47.4
their average nett household income per month is 3,637 euro
67% of visitors intended to make a purchase during the trade fair
76% of visitors want to make a purchase/booking following the trade fair
78% rate the trade fair as very good/good
90% would recommend the trade fair to others
92% rate the show as wholly comprehensive or partially comprehensive
visitors attend the fair for an average of 5.2 hours
Exhibitors:
360 exhibitors from 17 countries
exhibitors gave the trade fair a grade of 1.4
86% rated their attendance at the show as successful
97% rated the trade fair as very good or good
Source: Visitor and exhibitor figures from Cycling & Hiking Holidays 2020
Exhibitor opinions 2020
We had a beautiful stand and highly motivated and committed staff, which a lot of visitors to the trade fair commented on. People couldn't get enough of our brochures, from hiking to nature preservation. I am really happy with the Schwäbischer Albverein hiking club stand.

We were packed with visitors up to 4.30 pm on the Saturday; people took loads of brochures away with them, covering our challenging hikes as well as other guided trips, and were also very interested in our environmental protection topics and brochures. We are really happy, and were able to promote the Schwäbischer Albverein hiking club and its expertise as a provider of guided walks plus its environmental protection expertise. The audience was, on the whole, very mixed, including young and old, plus a lot of families. We received a lot of member enquiries, some of which we could answer on the spot; we can't wait to see what the demand will be after the trade fair. Our expectations of showcasing the best of ourselves truly came to fruition – plus there was more going on than in the previous year. We'll definitely be back next year.

Kathleen Lumma: As soon as the doors opened at 10.00 am on the dot on the Saturday, visitors flooded into the hall and around our stand; we got so many people coming to us, we could only just manage the consultations. Visitors on the Saturday were particularly focused. On the Saturday alone, we gained 60 new members. All age groups were represented – everyone was really interested in outdoor holidays.

Frank Hofmann: The added services around the Cycling & Hiking Holidays show are just perfect, and that also attracts visitors. What really impressed us this year was the constantly high number of visitors to the staged events, and the crowds at the holiday cinema. Overall, we have to say that the interaction in hall 9 is a real magnet for people.

This was our first time exhibiting independently at C&H; in the past we always exhibited under the umbrella of East Bavaria in hall 7. We noticed in previous years that there's always loads going on in the outdoor hall; now we've tried it for ourselves and it's more than met our expectations. We'll definitely be back! Almost 1,000 cycling maps went on the first day, is was incredible. 3/4 of visitors were especially interested in the topic of cycle routes and biking tourism. The CMT and C&H shows have evolved wonderfully from my perspective. We are impressed. On the weekend of the trade fair, the Saturday was particularly busy, but there were also lots of visitors on the Sunday.

This was our first time at the C&H show and we were hugely impressed. There was lots going on, the people are true fans of cycling and hiking. We were in the perfect position with our attendance at the trade fair. As our office is in Ireland, it was important for us, and great, to meet some of our customers face-to-face for once. Some trade fair visitors booked a trip at the stand itself, and we expect very good post-show business. But overall, we gave out huge numbers of brochures and are really happy; everything went very well and it would be great to come back next year.

A lot of walk-in customers came to us, took a look around first of all, and bookmarked us. But our main topic of Certified Hiking Routes was of great interest to all visitors. Many visitors asked about specific destinations. The audience was a colourful mix, including some families. We think the Stuttgart trade fair is the perfect opportunity to plan holidays and hikes for the new year. The combination with the caravan show is perfect too, because a lot of camper also enjoy hiking.

Overall, we saw a lot of new customers at the stand this year and all our range was in high demand from e-bike to traditional cycling tours, both guided and individual. Highly specialised trips were also winners, including Vietnam and Tanzania. We easily met all our trade fair aims, and look forward to returning next year.

This was our first time at C&H and we were impressed beyond all measure. We spoke to more than 700 people, there was huge interest - better than expected. Visitors were extremely interested in our nature adventures and the region, and especially in cycling trips. We gave out over 1,000 flyers. We noticed that the trade fair audience is unbelievably keen on having lots of details and is already extremely well informed. We definitely want to come back next year; it's virtually an obligation. It gave us a superb promotional platform for our small country of Montenegro. It was a lot busier on the Saturday than on the Sunday, but even the Sunday exceeded our expectations.

The hall was almost bursting at the seams on the Saturday and we were unbelievably busy The Sunday was also extremely well attended and went very well. Because we had a lot of staff on our stand, we were fortunately able to handle the high demand. Most of the visitors who came to us had very detailed and technical questions about our product portfolio, so about the complete e-bike drive system. We wanted to position our brand once again at the trade fair, and that was a real success for us. From a sales perspective, the weekend of the trade fair went perfectly. We met our core target audience. We have had positive experiences here in Stuttgart over the years, and expect to be back in 2021. It's worth it, pretty easy; there are many extremely high value contacts.

We have been here many times, but always under the umbrella of Hartje; this time we exhibited independently and it was absolutely worth it. Having our own presence brought true added value. The trade fair is a perfect fit for us because a lot of people are looking specifically for e-bikes, and the visitors have high spending power. Our stand attracted middle-aged visitors in particular: they have time, money, and are physically fit. A lot of couples in particular are interested in e-bikes. We are excited about the business generated at the trade fair, and highly optimistic. Both days of the trade fair were incredibly well attended, especially the Saturday. We think we'll be back in 2021.

It was our first time at the trade fair, and we're unbelievably excited. We simply had two wonderful days, and have had very positive feedback. The trade fair was very well attended, and the visitors were hugely interested in our products. The Saturday was particularly successful, and there was an extremely high frequency of visitors. The Sunday was fantastic too, and our stand was always full. We can definitely envisage coming back next year.