Catering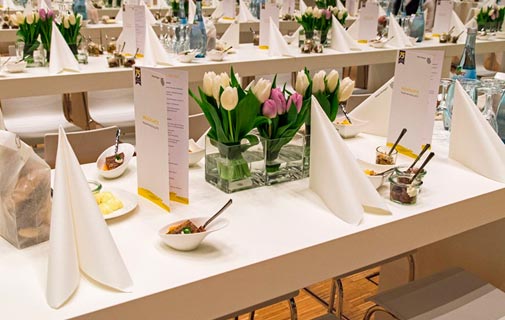 Our service partner will take excellent care of catering for your guests and ensure they feel at home. From catering at exhibition stands right through to the gala – ARAMARK's expertise never fails to inspire. You can choose from a wide range of food, drinks and equipment (e.g. coffee machines, dishes and accessories).
Catering can be organised in line with ecological and sustainable criteria. Meat and sausage products are sourced from regional producer organisations, and fruit, vegetables and bakery products also come from local suppliers. Our partner has been certified in accordance with the council regulation on organic production (EEC) No. 2092/91 since 2004, and certified organic and fair-trade products are integral to its range.
ARAMARK: Custom solutions and support
Flexibility, professionalism, international expertise: ARAMARK meets the various requirements of the event business and delivers outstanding on-site customer service.
ARAMARK will be happy to support you at the following events of all sizes:
Stand catering/stand parties
Trade fair catering
Meetings
Congresses and conferences
Evening events
Get-togethers
Company parties
Learn more about our partner at www.aramark.de.