Management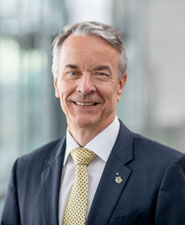 Roland Bleinroth has been President of Messe Stuttgart since 2006, and CEO since February 2020. In this function he is responsible for the entire company, Corporate Communications, Corporate Services and the Trade Fairs & Events 2 exhibition area with a focus on technology & crafts, mechanical engineering & production and tourism & caravanning. With Messe Stuttgart International, he is also responsible for the foreign business of Messe Stuttgart.
Bleinroth was previously active as President of Messe Frankfurt, Inc. at the location of Atlanta/USA for ten years, responsible for building up the business of an internationally successful trade fair company in North America (USA, Canada, Mexico). At AEG Daimler-Benz Industrie, for seven years he held management positions for the strategic planning, foreign business and marketing of a successful industrial company.
Beside his full-time activity, Bleinroth is also involved in further voluntary activities, and is, among other things, the Chairman of the Tourism Committee of the Stuttgart Regional Chamber of Industry and Trade, a regular member of the Stuttgart Regional Chamber of Industry and Trade, and a Board Member of the Italian Chamber of Trade in Munich. Since spring 2022, Roland Bleinroth has also been Honorary Consul for Mongolia in Baden-Württemberg and since November 2022 President of the European Major Exhibition Centres Association (EMECA).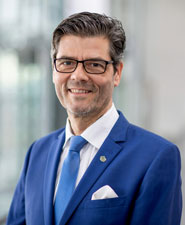 Stefan Lohnert has been President of Messe Stuttgart since February 2020. From 2006 he had already been active in the company as Division Director Guest Events and ICS International Congress Center Stuttgart. He is still responsible for this division as well as the trade fair area Trade Fairs & Events 1 with a focus on hospitality & food, medicine & health, education & business, lifestyle & sustainability. He is also responsible for Service & Business Development, Construction and Facility Management Event Operations and the Works Council.
In the past, Lohnert worked in management positions for the Office of Culture in Tamm and the Congress Centre in Böblingen, and he was Managing Director of Tourismus GmbH in Bad Saulgau, as well as the Congress Centre and the Sports Hall in Böblingen.
In addition to his management activities, Lohnert is also engaged in a wide range of commitments. He served, for example, as chairman of the German Chapter at the ICCA (International Congress Center Association) for four years, as a member of the Board of Directors of the German Convention Bureau (GCB) for three years and he is a Member of the Advisory Board of the Stuttgart Convention Bureau to this day. He is also a guest lecturer at universities in Ravensburg, Stuttgart, Heilbronn and Ludwigsburg