Deutscher Bautechnik-Tag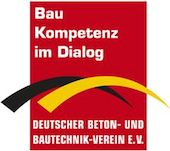 The leading conference on construction engineering/Building technology takes place every two years. The event comprises speeches and lectures, presentations and an attractive market place with about 60 exhibitors that facilitates a lively dialogue between participants.
Find more information on the Dt. Bautechnik-Tag (German Construction Technology Day) at http://www.bautechniktag.de/
"At the second event, the ICS delivered as convincing a performance as at the first: Excellent equipment, professional support by the Messe Stuttgart team and their service partners in the preparation and realization of the German Construction Technology Days 2017 and 2019 as well as the outstanding accessibility with hotels directly on-site that made ways short for our exhibitors and participants and played their role for an intensive communication. We will be happy to come again."
Anja Muschelknautz,
Project manager communication and events,
Deutscher Beton- und Bautechnik-Verein E.V.