14.12.2020 - 11:10
Studio solutions for all types of events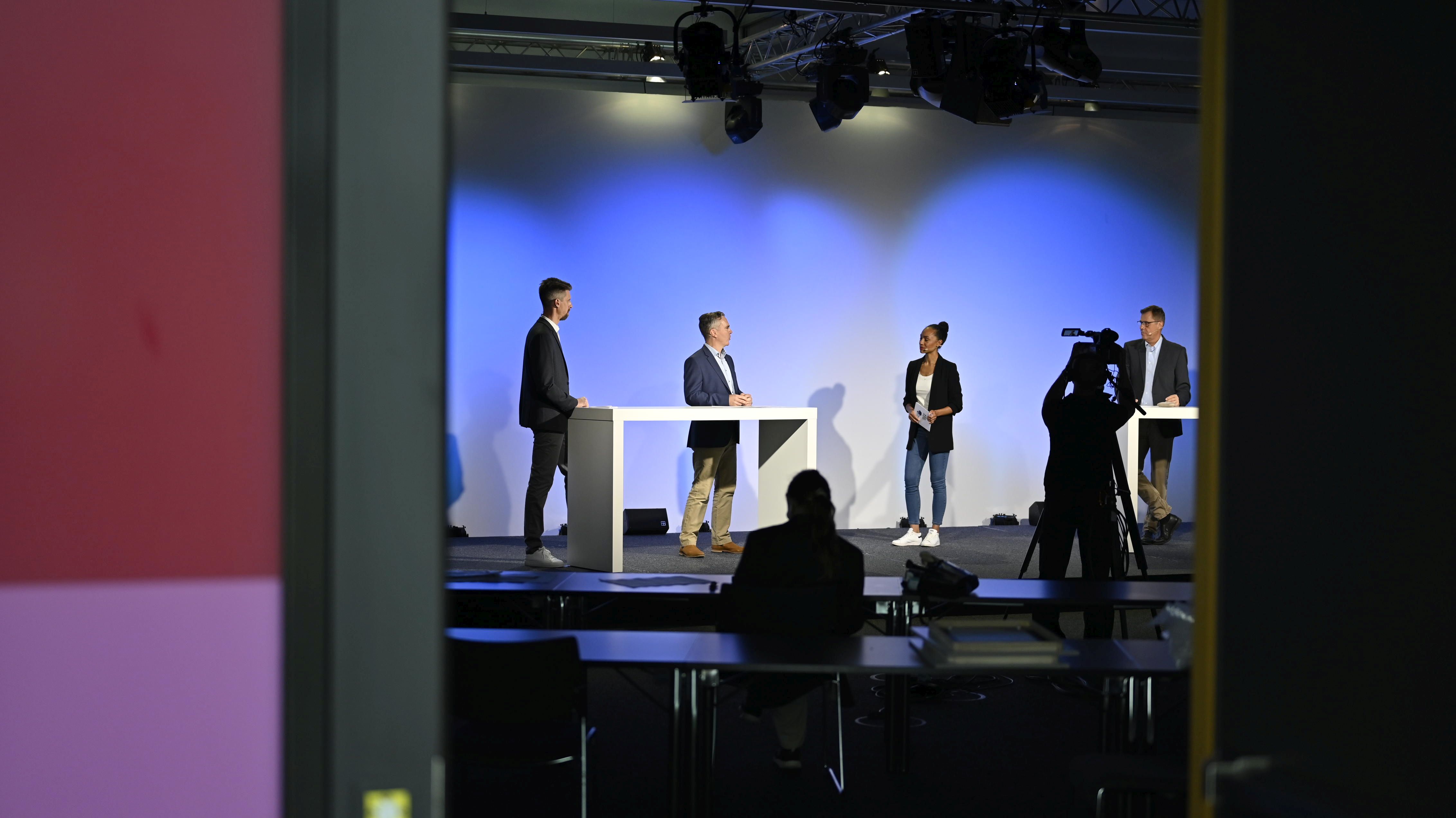 Informing customers about new products. Implementing training for sales staff. Making employees aware of a new corporate strategy. Holding a works meeting. How are all these things done in times when face-to-face events have a very limited number of participants and trade fairs cannot take place?

"Our streaming studios equipped with technical infrastructure are the right choice for all these events", explains Stefan Lohnert, President of Messe Stuttgart. "We are able to offer studios in three sizes, each tailored to individual requirements. They are suitable for podium discussions, conferences, product presentations and many other formats." The studios have been booked about a dozen times so far, this figure is set to increase in the future.

Three studios in different sizes and with individual ambience are available: Studio L, M and S, in the ICS International Congress Center Stuttgart and in the administration building of Messe Stuttgart.

Studio L is suitable for podium discussions, conferences and product presentations. There is space for up to eight speakers. It has a usable space of 390 square metres. This means that hybrid events with up to 50 people are also possible. Several simultaneous set-ups are also not a problem. The studio has two cameras, sound, light and video technology, including editing. The event can be broadcast on existing customer websites or customer social media platforms via streaming.

The smaller Studio M is perfect for presentations, press conferences and information events. Its special feature: It is a comfortable and at the same time mobile studio solution, which can be installed at any location on the grounds of Messe Stuttgart. Hybrid events with up to twelve people are possible, on a usable space of 121 square metres.

Finally there is Studio S which is optimally equipped for smaller and more intimate settings. With 46 square metres it is ideal for presentations, talks and digital seminars.

The previous users are convinced of the studio solutions. Motor Presse Stuttgart recently held its Auto Motor and Sport Congress "Mobility of the Future" there. For the first time in a digital format. The première was a success, as Alexandra Übler, Senior Project Manager for Events, Business Division Event & Corporate Publishing, of Motor Presse Stuttgart, confirms: "We are very satisfied. The format was very well received by the coordinators and the external participants. Studio L is wonderful and was absolutely perfect for our purposes because it allowed us to realise three different stage situations." Übler did not want to hide the fact that scepticism about whether such a format could work was huge at the beginning. "It was our first purely digital event. Following our experience I can only say that we would do it again straight away. The cooperation with the service partner Neumann & Müller, who was responsible for the studio technology, ran smoothly and was very professional." Three settings were available to the speakers of the congress: an area with high tables, a projection screen for the moderator and a lounge set-up with chairs for the discussions.
For the future the focus at Motor Presse Stuttgart will be more on hybrid events, which are transmitted completely digitally via the Internet and to which speakers from other continents are connected live.

Other customers also found the right location for their event with the studios. "1Point5Events plans and implements corona-compliant events with the aim of showing new solutions for the event industry.
In this connection we looked around for suitable options for high-quality video recordings. We found just the thing in the studios of Messe Stuttgart", explains Michael Kaden, 1Point5Events.com, spinnacker.net. "The processing was smooth and professional. The technical options in the studio are extensive: recordings, live streaming, digital seminars, hybrid. Anything is possible!"

"Initially it was not easy for us to cancel our annual international networking highlight – the prostep ivip symposium – as a real event in the ICS due to current situation for safety reasons. Streaming the symposium as a virtual event worldwide live from the ICS was a huge success thanks to the professional support of the ICS team, who turned a difficult situation into an excellent opportunity to reach an even bigger and new target group", states Dr. Alain Pfouga, President of prostep ivip Association, impressed by the opportunities. The prostep ivip symposium will also be held in the ICS in 2021.

The Baden-Württemberg State Agency for Environmental Technology and Resource Efficiency was recently a guest in the Messe Stuttgart studios in order to stream its two-day CONGRESS BW live.

Messe Stuttgart held its works meeting in Studio L in September, for the first time in digital format. It worked perfectly. The employees were connected via Microsoft Teams and could submit their questions to a moderator via the chat function, even anonymously if they so wished. Despite the digital format, there was a very lively question and answer session. The result was that all participants were more than satisfied.

However, the spatial possibilities of Messe Stuttgart are not limited to fixed studios. The trade fair halls can also be booked for hybrid formats and equipped with mobile studio solutions on request, which some well-known companies from the automotive industry and other sectors have already done for strategy updates, product presentations and similar.

Captions:

UK_20_PM25_Bild_1: Three settings were available to the speakers of the Auto Motor and Sport Congress: an area with high tables, a projection screen for the moderator and a lounge set-up with chairs for the discussions.
(COPYRIGHT: Motor Presse Stuttgart)

UK_20_PM25_Bild_2: The technical possibilities in the studio, such as recordings, live streaming, digital seminars, or hybrid, convinced the organiser 1Point5Events.com, spinnacker.net.
(Copyright Messe Stuttgart)

UK_20_PM25_Bild_3: Streaming the prostep ivip symposium worldwide live from the ICS proved a huge success for the event organiser.
(COPYRIGHT: prostep ivip symposium 2020, prostep ivip Association)

About Messe Stuttgart:

With a turnover of almost €180 million and a profit of €34 million, Messe Stuttgart is one of Germany's leading trade fair companies in the strong even years. Every year over 23,500 exhibitors present their products and services to up to 1.36 million visitors on a hall area of 120,000 square metres, on an outdoor area of 40,000 square metres and in around 33 rooms that offer flexible use in the adjoining ICS International Congress Center Stuttgart. Messe Stuttgart serves its customers in 56 countries with three subsidiaries, 16 foreign representatives and numerous sales partners.

Download press releases from Messe Stuttgart and photos here.
back to overview