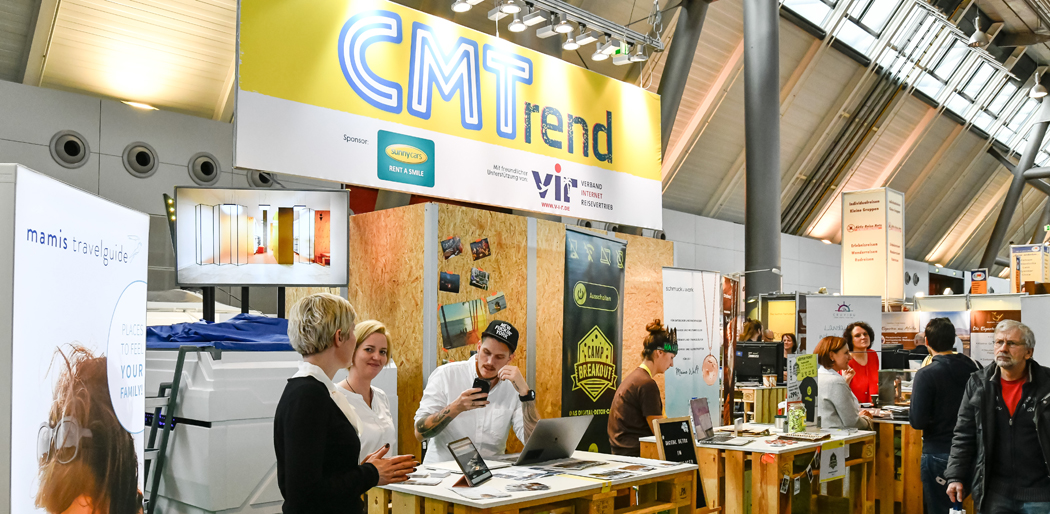 Innovative concepts in Hall 8
CMT has been a platform for innovations, ideas and exciting exchanges for more than 50 years. In cooperation with the organisation Internet Reisevertrieb e.V. (VIR) and the sponsor Sunny Cars GmbH, the joint CMTrend stand has combined innovative companies from the tourist industry since 2019.
Get to know companies with whose assistance you can more easily book an individual holiday or exchange ideas with other travellers. Test systems which make travelling at your destination easier and make your holidays more emotional and more relaxed. Listen to exciting talks on innovative concepts and ideas.
Go on a journey to innovations in the tourism industry at CMT 2020 – the exhibitors in the CMTrend section are looking forward to becoming acquainted with you!
(Kopie 1)
Among others, the following exhibitors will be presenting on different days:
shakebox: Reisen mit Freunden oder Familie leichter planen
vawidoo: entspannter Urlaub mit dem Hund
betterbackpacking: alles rund ums Thema Backpacking
meine-weltkarte.de: Weltkarten zum Ausmalen
sleeperoo: im sleep Cube an ungewöhnlichen Orten übernachten
Unplanned Moments: individuell ungeplant reisen
TRASTY: die persönliche Reise-Story mit anderen teilen
Urlaubsrente: lebenslang garantiert Urlaub machen
Fineway: die neue Art, individuelle Reisen zu buchen
CRUVIDU: Der Tourenplaner für individuelle Landausflüge
Space Development: "Kapsel"-Apartments und -hotels
Breakout Experiences: Das Digital-Detox-Camp und Ferienlager für Erwachsene
StaysInStyle/Mamistravelguide: Urlaubspartner für alle Familien und Paare, die besondere Unterkünfte mit Flair suchen
List and Ride: Das perfekte Rad einfach mieten
Juwelier Depperich: Individualisierte Weltkugel zeigt persönliche Urlaubsziele mit einem Diamanten
Mister Trip: verbindet Reisende mit den besten Reiseagenturen vor Ort
City Pirates: dein persönlicher Audio-Stadtführer für das Smartphone
Regiondo: maßgeschneiderte Buchungslösung für Freizeitanbieter
Camperboys: Vermieten & Verkaufen top ausgestatteter VW T6 California