Conditions of use for press material of Messe Stuttgart
All images can only be used by publishing companies and journalists for editorial purposes within the scope of reporting about Messe Stuttgart, its subsidiaries and events including guest events and congresses on the grounds of Messe Stuttgart. Any other use (for advertising purposes) is only permitted with the prior written consent of Messe Stuttgart (to be obtained via presse(at)messe-stuttgart.de). A disassociation or other modification of the images is not permitted. "Photo: Messe Stuttgart" must be specified as the source.
We kindly request a complimentary copy or link to a publication be sent to: Landesmesse Stuttgart GmbH, Messepiazza 1, 70629 Stuttgart, GERMANY, presse(at)messe-stuttgart.de.
12.01.2020 - 17:17
Prämierte Natur-Abenteuer "vor der Haustüre"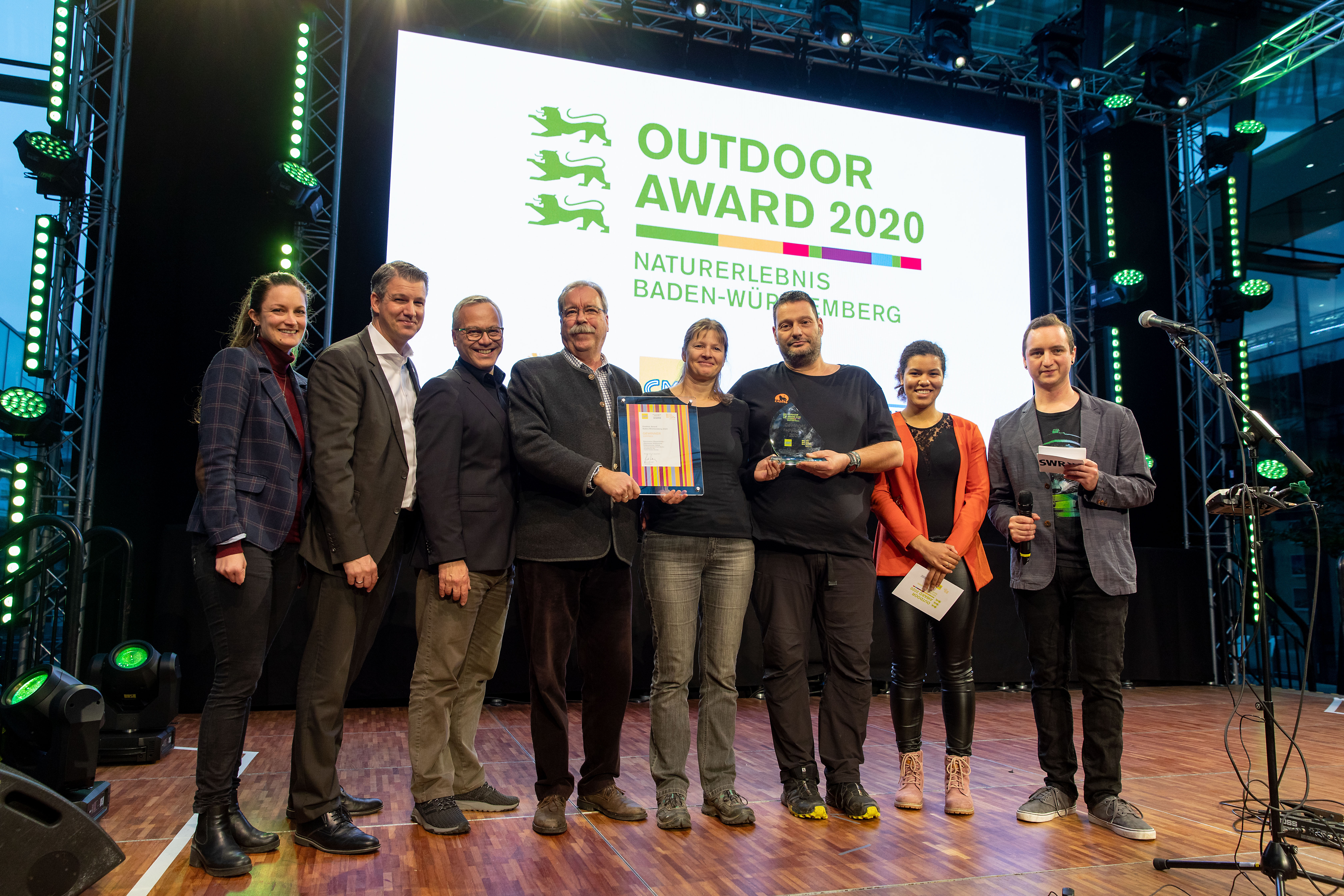 "In Baden-Württemberg gibt es durchaus noch wilde Natur", sagte Andreas Braun, Geschäftsführer der Tourismus Marketing GmbH Baden-Württemberg (TMBW) am Sonntag auf der CMT in Stuttgart, wo sich das Urlaubsland Baden-Württemberg mit dem Themenschwerpunkt "Wilder Süden" präsentiert (Halle 6). "Es gibt Bannwälder, Auen und raue Berggipfel, einen Nationalpark, zwei Biosphärengebiete und insgesamt sieben Naturparke voller wilder Naturerlebnisse." Kleine Abenteuer warteten bereits "vor der Haustüre": Man könne seine Freizeit aktiv gestalten, "wandern, radfahren, klettern – oder ohne teures Equipment die Natur erleben, etwa mit dem Schlafsack in Trekking-Camps im Schwarzwald übernachten und das einfache Leben im Wald für sich entdecken". Auf Fragen wie Umweltschutz und Nachhaltigkeit habe man in Baden-Württemberg "die passende Antwort", denn: "Man kann klimafreundlich in Baden-Württemberg bleiben und trotzdem etwas erleben. Die Natur-pur-Erfahrung liegt oft viel näher, als man denkt!"
"Cross Country" durchs Bullentäle
Zu den mit Spannung erwarteten Höhepunkten im touristischen Jahreskalender 2020 gehört die UCI-Mountainbike-Weltmeisterschaft, die in der olympischen Disziplin "Cross Country" vom 25. bis 28. Juni in Albstadt ausgetragen wird. Dort feiert man 2020 zudem das Zehn-Jahres-Jubiläum der "Traufgänge", der ersten Wandermarke in Baden-Württemberg, die einheitlich präsentiert wurde. "Das hat einen kleinen Wander-Boom" ausgelöst, freute sich Martin Roscher, Leiter von Albstadt Tourismus. "Heute bieten wir auf zehn zertifizierten Premium-Wanderwegen hundert Kilometer Wandervergnügen über die Höhen der Schwäbischen Alb." Ein knallhartes sportliches Abenteuer verspricht dagegen die Mountainbike-WM. Die WM-Strecke im Bullentäle, der "Hexenkessel", ist bei Profisportlern bekannt und beliebt. Mit von der Partie: Lokalmatadorin Ronja Eibl.
"Faszinierend, was wir hier in der Region haben"
Ein Gemeinschaftsprojekt von CMT und TMBW in Partnerschaft mit der Stuttgarter Zeitung und den Stuttgarter Nachrichten ist der Outdoor Award Baden-Württemberg. Mit der Auszeichnung sollen besondere touristische Angebote ausgezeichnet und herausgestellt werden. Die Begeisterung für das eigene Land als Reiseziel gründe auf "einer beispiellosen Zusammenarbeit verschiedener Leistungsträger", lobte Guido von Vacano, Mitglied der Geschäftsleitung der Messe Stuttgart. "Hier in Baden-Württemberg gibt es viele tolle Outdoor-Angebote. Hinzu kommt eine unheimlich große Nachfrage nach Naturerlebnissen. Es ist faszinierend, was wir hier in der Region haben!"
Outdoor-Award-Finalisten im Atrium
Den Publikumspreis, bei dem mehr als 3000 Zeitungsleserinnen und -leser abstimmten, erhielt der Verein Trailsurfers Baden-Württemberg aus dem Bottwartal, der sich für die Einrichtung legaler Trails und damit für die Förderung des Mountainbike-Sports einsetzt. Der Preis der Jury ging an den Tourenanbieter Cojote Outdoor und die Tourismusgemeinschaft Mythos Schwäbische Alb für ihre Canyoning-Touren in der Falkensteiner Höhle. Die insgesamt fünf Finalisten, die aus zahlreichen Bewerbungen in die Endauswahl gelangten, stellen sich auf der CMT im Atrium der Messe vor.
Die CMT-Aussteller aus Baden-Württemberg präsentieren sich in der Oskar Lapp Halle 6:
back to overview
Photos of CMT
CMT 2020: PM 1

Andreas Braun, Geschäftsführer TMBW

BILDNACHWEIS MESSE STUTTGART

CMT 2020: PM Nr. 50

von links: Guido von Vacano, Mitglied der Geschäftsleitung Messe Stuttgart Badenixe Birte Hautkapp, Rulantica / Europa-Park Richard Hilble, Gewinner Irina Hilble, Gewinnerin Maria Engemann, Managerin Vertrieb Europa-Park Roland Bleinroth, Geschäftsführer Messe Stuttgart

BILDNACHWEIS MESSE STUTTGART

CMT 2020: PM Nr. 50

von links: Guido von Vacano, Mitglied der Geschäftsleitung Messe Stuttgart Richard Hilble, Gewinner Irina Hilble, Gewinnerin Roland Bleinroth, Geschäftsführer Messe Stuttgart

BILDNACHWEIS MESSE STUTTGART

CMT 2020: PM Nr. 59

Roundtable mit den angemeldeten Clubs zum Lebensraumprojekt

BILDNACHWEIS MESSE STUTTGART

CMT 2020: PM Nr.

Julia Marmulla (re.) mit Bloggerin Laura Gehlhaar

BILDNACHWEIS B-Plus-K / Xiomara Bender