Conditions of use for press material of Messe Stuttgart
All images can only be used by publishing companies and journalists for editorial purposes within the scope of reporting about Messe Stuttgart, its subsidiaries and events including guest events and congresses on the grounds of Messe Stuttgart. Any other use (for advertising purposes) is only permitted with the prior written consent of Messe Stuttgart (to be obtained via presse(at)messe-stuttgart.de). A disassociation or other modification of the images is not permitted. "Photo: Messe Stuttgart" must be specified as the source.
We kindly request a complimentary copy or link to a publication be sent to: Landesmesse Stuttgart GmbH, Messepiazza 1, 70629 Stuttgart, GERMANY, presse(at)messe-stuttgart.de.
17.01.2020 - 11:26
Gesundheit und Erholung aus der Natur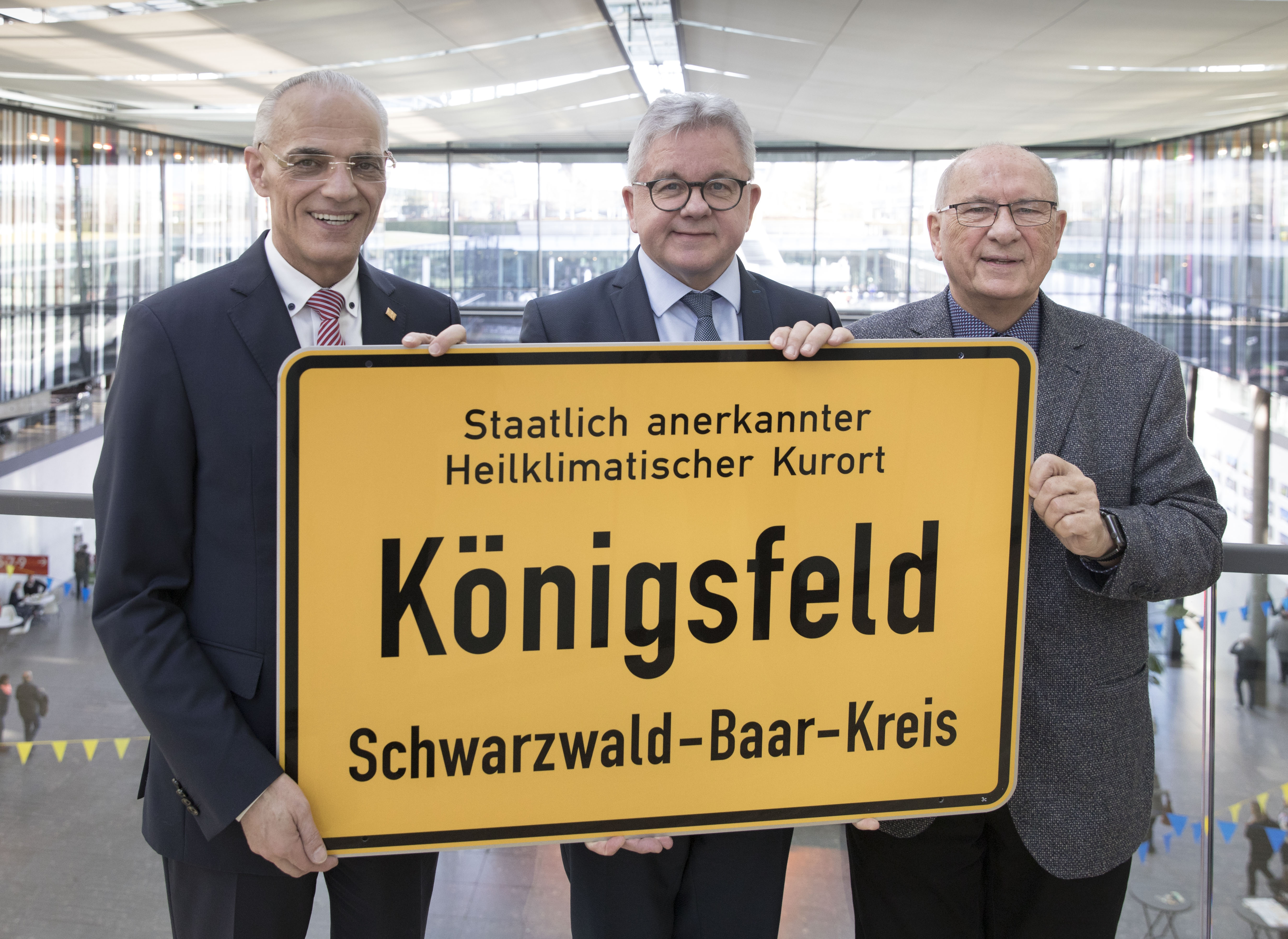 Der Heilbäderverband Baden-Württemberg ist in diesem Jahr Partner der weltweit größten Publikumsmesse für Tourismus und Freizeit, der CMT in Stuttgart. Der diesjährige Messeauftritt im Rahmen der Partnerschaft ist Teil einer großen Marketing-Kampagne, die der Verband mit finanzieller Unterstützung des Ministeriums der Justiz und für Europa Baden-Württemberg ab 2020 durchführt. Minister Guido Wolf sagte am Freitag auf der Urlaubsmesse, er sehe "großes Potenzial in den Themen Gesundheit, Erholung und Wellness für den Tourismus im Südwesten". Für den Heilbäderverband gelte es, die guten Übernachtungszahlen in Kurorten und Heilbädern aus dem Vorjahr zu halten und auszubauen.
Eine ganz konkrete Maßnahme, die im Rahmen der Kampagne beschlossen wurde, stellte Fritz Link, Präsident des Heilbäderverbands, auf der CMT vor: Ab dem 1. Februar tragen 38 der höher prädikatisierten Heilbäder und Kurorte in Baden-Württemberg das Prädikat im Ortsschild mit. Das Ortsschild, laut Link die "Visitenkarte einer Gemeinde", weise also bald aus, um welche Art von Kurort oder Heilbad es sich jeweils handele. So trägt Bad Schönborn beispielsweise zukünftig den Zusatz Soleheilbad im Ortsschild, Königsfeld im Schwarzwald den heilklimatischen Kurort. Für rund 70 Prozent der Gäste sei das jeweilige Prädikat entscheidend bei der Auswahl der Destination, so Link. Deshalb habe man gemeinsam mit der Politik die kommunalrechtliche Zusatzbezeichnung auf den Weg gebracht.
Weitere Maßnahmen und Angebote, insbesondere auch im digitalen Bereich, werde die HKM Heilbäder und Kurorte Marketing GmbH Baden-Württemberg, eine hundertprozentige Tochter des Verbandes, im Laufe des Jahres noch umsetzen, kündigte Link an. Ab April bediene man die Zielgruppe der Wohnmobilisten beispielsweise mit einem digitalen Stellplatzführer, der Stellplätze an Bäder und Thermen ausweist und Informationen zur Infrastruktur vor Ort bündelt. Mit rund 890.000 Übernachtungen im Tourismusjahr 2019 sind Camper und Caravaner für den Verband und seine Mitglieder eine zunehmend wichtige Zielgruppe, insbesondere da die ärztliche Verschreibung von Kuren oder Präventionsaufenthalten immer weiter abnimmt.
Bildunterschrift:
CMT_20_P_123: Fritz Link, Präsident des Heilbäderverbands Baden-Württemberg e.V. und Bürgermeister von Königsfeld, Guido Wolf, Minister der Justiz und für Europa des Landes Baden-Württemberg und Prof. Rudolf Forcher, Ehrenpräsident des Heilbäderverbandes präsentieren das neue Ortsschild für Kurorte und Heilbäder
Bildnachweis: Messe Stuttgart
Download all media as .zip
back to overview
Photos of CMT
CMT 2020: PM 1

Andreas Braun, Geschäftsführer TMBW

BILDNACHWEIS MESSE STUTTGART

CMT 2020: PM Nr. 50

von links: Guido von Vacano, Mitglied der Geschäftsleitung Messe Stuttgart Badenixe Birte Hautkapp, Rulantica / Europa-Park Richard Hilble, Gewinner Irina Hilble, Gewinnerin Maria Engemann, Managerin Vertrieb Europa-Park Roland Bleinroth, Geschäftsführer Messe Stuttgart

BILDNACHWEIS MESSE STUTTGART

CMT 2020: PM Nr. 50

von links: Guido von Vacano, Mitglied der Geschäftsleitung Messe Stuttgart Richard Hilble, Gewinner Irina Hilble, Gewinnerin Roland Bleinroth, Geschäftsführer Messe Stuttgart

BILDNACHWEIS MESSE STUTTGART

CMT 2020: PM Nr. 59

Roundtable mit den angemeldeten Clubs zum Lebensraumprojekt

BILDNACHWEIS MESSE STUTTGART

CMT 2020: PM Nr.

Julia Marmulla (re.) mit Bloggerin Laura Gehlhaar

BILDNACHWEIS B-Plus-K / Xiomara Bender