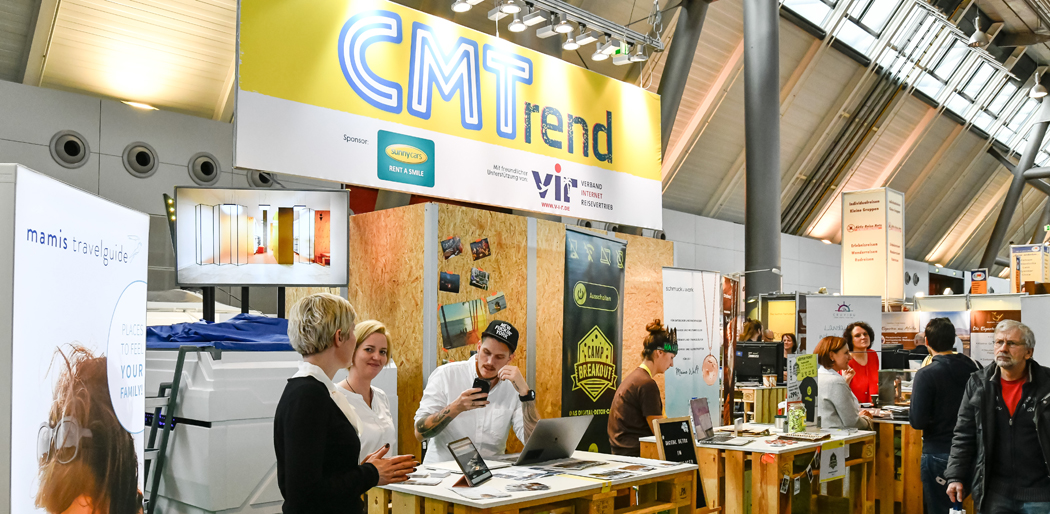 Innovative concepts in Hall 8
Flexible and inexpensive exhibition opportunities
CMT has been a platform for innovations, ideas and exciting exchanges for more than 50 years. In cooperation with the organisation Internet Reisevertrieb e.V. (VIR) and the sponsor Sunny Cars GmbH, the joint CMTrend stand has since 2019 been offering innovative companies from the tourist industry the opportunity to present their products and services to around 260,000 visitors.
Visitors also look for answers to these questions at CMT:
Is it easier to book an individual holiday with your offer or exchange ideas with other travellers?
Have you developed a product which makes travel locally at the destination easier?
Does your service make the holiday more emotional and more relaxed?
Everything ready.
As an exhibitor on the joint stand you receive a fully prepared stand and therefore do not need any time to set it up. You can reserve this stand for the entire duration of CMT (9 days) or occupy it only on 3 days (three time slots)! Pitches and short screen presentations are possible on the stand at any time. You can also present your company to the CMT exhibitors during the VR Start-Up Night.
Do you want to be there? If so, talk to our Project Manager about your presentation on the joint CMTrend stand.