CMT 2023 exceeded all expectations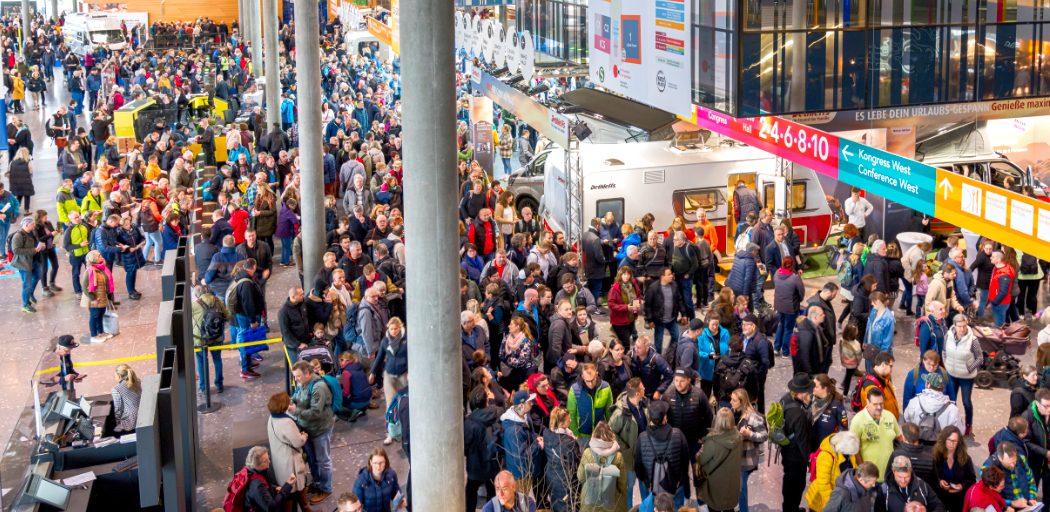 With around 165,000 visitors, over 1,600 satisfied exhibitors and an international media hype, CMT 2023 continued its successful journey.
9 days of first-class business
The entire travel industry meets at the first and largest consumer show for tourism and caravaning in the year when the international season opens. Everything revolves around holidays and travel over a period of nine days. Keen travellers from all over Germany, Switzerland and Austria come to CMT to obtain information about new destinations, caravans, recreational vehicles, vans and accessories. The international accompanying programme contains a large number of events featuring entertainment, exoticism, holiday cinema, folklore and a 6-day trade visitor programme with well-known experts from the tourist industry for all tourism professionals.
Perfect structure
Caravaning, Mobile Leisure and Tourism serve all the subjects of the travelling public. All forms of holiday, almost every destination around the globe, and almost every current leisure vehicle are represented at the CMT. The subsidiary shows in Hall 9 on the two CMT weekends present very special forms of travel in a comprehensive and focused manner. In short: The CMT is the perfect marketplace for a successful start to the season.

High media interest
Over 1,500 accredited journalists report before, during and after CMT on all channels: TV, radio, print and social media. Innovations, new destinations, trends and prominent guests from the travel industry, economics, politics and society are presented in the reports by these journalists. Long-lasting media coverage ensures a constant presence for CMT long after the exhibition has finished.
Book, buy and order
Around 300,000 visitors, with above-average purchasing power who are interested in travel, come from southern Germany and the neighbouring countries to the CMT to invest in their holiday, in new caravans and motorhomes, in accessories and in tourism services 92 % of the visitors stated that they would be visiting the CMT again and 96 % want to recommend the CMT to friends and relatives.
11 times Number 1
In 2019, the Corps Touristique (CT), Association of Foreign National Tourism Organisations and Railways in Germany, assessed the travel exhibitions in Germany for the 14th time. For the eleventh time, CMT achieved 1st place! A total of 15 travel exhibitions in Germany were examined by the Corps Touristique.
Subsidairy show´s on the 1st and 2nd CMT weekends


Attention will focus on special travel themes in dedicated exhibition areas on the first and second CMT weekends.