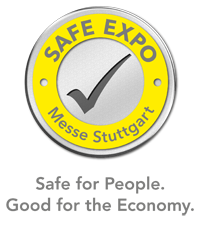 Measures for the controlled and safe staging of events at Messe Stuttgart
Trade fairs and exhibitions in Stuttgart can be staged safely. Messe Stuttgart has formulated a concept to protect the health of its exhibitors, visitors and employees. These are the measures:
The required number of disinfectant dispensers is available throughout the trade fair grounds of Messe Stuttgart.
The cleaning frequency and disinfection in the sanitary areas and throughout the trade fair grounds have been increased for event operations.
The trade fair grounds of Messe Stuttgart have a building management system based on the highest technical standards. This enables intensive air exchange to take place in the exhibition halls.
Transparent partitions made of glass and plastic are installed on the trade fair grounds at every counter where there is contact between employees and service providers of Messe Stuttgart and participants (e.g. counters in the Press Centre, VIP lounge, the trade fair shop, cloakrooms, service offices, information counters).
We will ensure that physical distancing regulations are observed with a minimum distance of 1.50 metres by means of corresponding floor markings. This relates, for example, to the areas of the turnstiles in the entrance halls, Messe restaurants and bistros, sanitary facilities, counters in the Press Centre, the trade fair shop, cloakrooms, service offices and information counters.
In the run-up to the event (e.g. during registration), all participants in an event (visitors, exhibitors, journalists, employees, service companies, etc.) will be informed about the hygiene and protection measures).
Reference to the measures will be made on the trade fair grounds in a suitable form and to an adequate extent (posters/notices, flyers, loudspeaker announcements, etc.).
Protection and hygiene measures will be supplemented by specially trained personnel on the trade fair grounds.
Messe Stuttgart recommends that visitors use the corona app of the German Federal Government.
We have set up a hotline for questions relating to trade fairs, safety and hygiene. All event participants can use this hotline – from Monday to Friday and also during events at the weekend. The service hotline can be contacted each day from 08:00 to 14.00 on the following number: +49 (0)711 18560-2121 or also by e-mail at: safeexpo

(at)

messe-stuttgart.de
Important information: Please understand that the service hotline of Messe Stuttgart cannot provide any medical advice regarding the coronavirus. Please contact your doctor, especially if you have any questions regarding a possible infection.
The provisions of the "Ordinance of the Baden-Württemberg Ministry of Social Affairs and of the Ministry of Economics to Prevent Transmissions of the Coronavirus (SARS-CoV-2) in Restaurants (Corona Ordinance Restaurants – CoronaVO Gaststätten, as of 27.5.2020) apply to restaurants, bistros, catering and tasting on exhibition stands at Messe Stuttgart.
Physical separation of the gastronomic facilities, the use of outdoor areas (e.g. food courts) and the provision of to go services will ensure that the valid regulations are observed.
The arrangement of all seating areas in conference forums and other formats creates a minimum distance of 1.5 metres between the participants.
The aisles between the exhibition stands are being made much wider. Participants at a trade fair can therefore move freely in the aisles and also comply with the physical distancing regulations.
The areas at the heads of the halls will be kept free in order to create enough space for queuing areas at the sanitary facilities and bistros.
In the information provided to exhibitors and visitors before an event, specific reference will be made to official requirements and the applicable communication channels at the event location.
Admission codes which visitors receive in advance from the media, exhibitors or Messe Stuttgart can still be redeemed online in the Messe Stuttgart ticket shop. It is not possible to redeem them on site.
Visitors will only receive their tickets in advance and online via the Ticket Shop of Messe Stuttgart. Every ticket is valid for a defined event day. No season tickets lasting several days will be issued. However, it will be possible to attend an event on several days. For this purpose, it will be necessary to register individually for every required visit day. No tickets will be sold on-site and registration will also not be possible. This will ensure that all participants can be traced if necessary. There will also be no queues at the cash desks.
Everyone taking part in an event will be subject to full registration with immediate effect. This means that essential personal data must be provided at the time of online registration. This applies to all visitors, exhibitors, media representatives, VIPs and exhibition stand builders.
Queues will be formed safely through the use of an access management system and distance markings on the floor.
Exhibitor and visitor access will take place via the maximum possible number of entrances and exits.
If necessary, visitors' tickets will be issued with time allocation (e.g. time slots on a daily basis). Contactless payment facilities are being set up in many areas at Messe Stuttgart. This involves, for example, the Messe restaurants and bistros. We are following the established solutions in the retail trade in this respect.
What we promise you
This promise applies to all consumer shows of Landesmesse Stuttgart GmbH. We are still a partner you can rely on.
If a cancellation or postponement becomes apparent, we will inform you – directly and transparently.
A binding contract between you and Messe Stuttgart will only be concluded when you receive a placement proposal from us this summer, confirm this and then receive a stand confirmation. Your registration for CMT is therefore currently a non-binding request to us.
If we have to cancel or postpone an event due to force majeure, we will refund your stand rental fee.
If you have any questions, please talk to us. We are there for you!