Thank you for a great CMT 2023!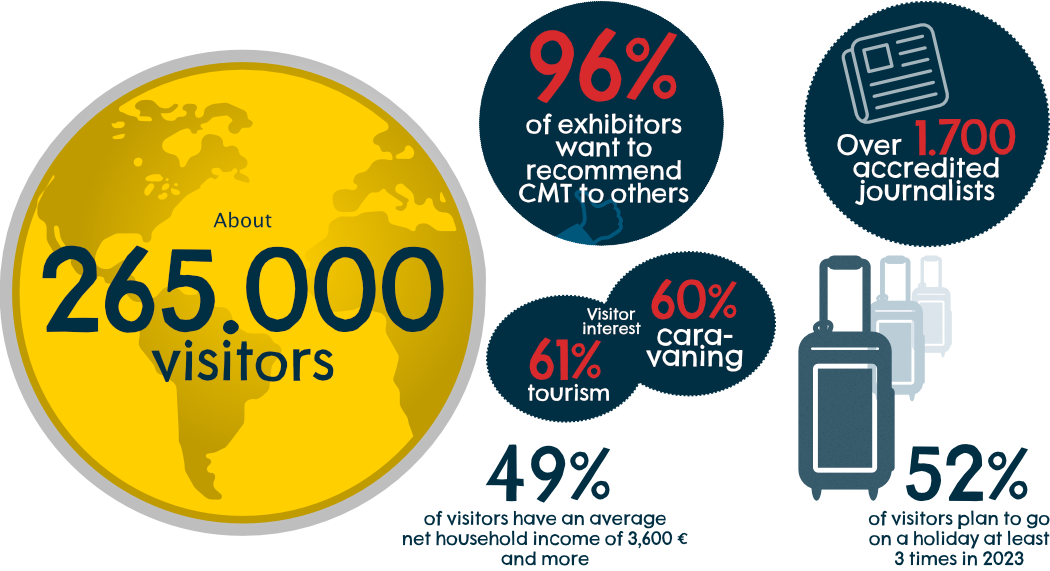 Nine trade fair days full of inspiration, the scent of distant countries, interesting innovations and the great offers from the exhibitors delighted the audience and brought everyone a great trade fair success.
Facts and figures relating to CMT 2023
Visitors:
265,000 visitors
75% of visitors came from a radius of 100 kilometres
25% of visitors travelled a distance of more than 100 kilometres
The average age of the visitors was 51,2 years
49% of visitors have an average household income of €3,600 or more
96% of visitors would recommend CMT to other people
61% were interested in the tourism sector, 54% in the caravaning sector, 9% in motoring/vehicles and 9% in other areas
52% of visitors were intending to go on holiday at least 3 times in 2023
52% of visitors were planning to spend their holiday in Germany
80% were intending to travel in other European countries
25% were planning a long-haul holiday
Exhibitors:
1,600 exhibitors from around 100 countries and 360 regions and cities
Exhibitors awarded CMT 2023 the overall mark 1.6
94 % of exhibitors would recommend CMT to other people
Exhibition:
10 halls with 120,000 square metres of exhibition space (gross)
Over 1,700 accredited journalists from 25 countries
Visitor communication on all channels
Live reports on TV and radio
Large opening ceremony with prominent guests
Large event areas and forums
Programme for trade visitors
Accompanying programme containing folklore, shows and a holiday cinema
Honoured nine times with the Gold Award from the Corps Touristique
Source: Visitor and exhibitor figures at CMT 2023
Comments by exhibitors at CMT 2023
"The interest shown by visitors was even greater than before the corona pandemic. It was my impression that everyone now wants to go on a long-haul holiday and discover new countries. We received a large number of questions about nature, culture, food and the nomadic life in our country. It was a great pleasure to provide the people here with advice. We attained our exhibition objectives and will definitely come back to the next CMT!"

"We came to CMT with high expectations that were not only fulfilled, but actually exceeded at times. Even after making a comparison over several years, we achieved really excellent results. Overall, I am expecting a very positive outcome to the exhibition. The new caravan models that we presented at CMT went down very well. The exhibition was a marvellous start to the year that gives us confidence for the coming season!"

"We made an excellent presentation at CMT with our innovative new offering and provided new impetus for health. We felt really at home at CMT from the beginning to the end and were well-looked after at all times. A solution was always found for every concern. The response by the visitors was also fantastic. CMT is the top address when you want to exhibit. It was like a birthday party for me and my team. We are very happy!"

"We were present at CMT with eleven clubs and two partners, and were very satisfied with the attendance. Our stand structure in the shape of an island went down well with the visitors to the exhibition. We wanted to make golf come alive and actively include the guests through offers for young and old alike. This proved to be a success. We also answered a large number of questions and provided information, for example on the work of our Environmental Committee or the initiative entitled 'Golf courses as a habitat'. Taking part in an exhibition ultimately helps to retain members. We also achieved success in this respect at CMT."

"I can draw some very positive initial conclusions! It was Messe Stuttgart's intention that customers in southern Germany didn't have to travel so far to a diving trade fair because the diving trade fair was coming to them. Since divers are multi-sportspersons who are keen on travelling, CMT was exactly the right platform for them. The visitors were impressed by the new segment and also make use of the entire offering at CMT. I believe that the project will be successful."

"We are overjoyed, it was a fantastic exhibition with marvellous visitors. We sold seven vehicles and reserved two others up to the second weekend, i.e. everything we had brought to the exhibition. We were also able to forge good contacts with dealers. Everyone was relaxed, there was a good mood, and we received a great deal of praise for our work. We are very satisfied!"

"It was incredible! There was enormous demand, our stand was overrun with visitors. We noticed that people are keen to travel again. Money is not an issue here. We conducted incredibly good, nice and friendly discussions with people who were grateful for good advice. We enjoyed this. We are very happy and highly motivated for the coming season. I am extremely confident!"

"Demand is increasing again substantially. We are almost at the same level as in 2020. We notice this directly on the phone: the number of phone calls multiplied practically at the start of CMT. Nearly all of them were bookings because our exhibition discount was attractive and was gladly accepted. Environmentally-conscious customers were pleased that we have now dispensed entirely with heavy oil. CMT was almost like a second birthday – we are very satisfied!"

"The exhibition was a total success! CMT is the most important event for our company in terms of B2B contacts. However, we also had a large number of good contacts with end customers. The visitors sought advice, provided us with feedback and placed orders straightaway in the Internet – our online sales doubled during the exhibition! We want to come back again, gladly on a large area."

"CMT 2023 was fantastic: visitors flocked to the exhibition right from the very start, and there was a wonderful response every day. We held some good discussions and wrote a large number of orders which made us extremely satisfied. We received some similar positive feedback from our colleagues in tent sales. We have been coming to CMT for many years and will definitely return!"

"The exhibition was very well-attended, even during the week. There were also many visitors in the halls nearly all the time from Monday to Friday. Summer holidays were definitely the focal points of interest – there was great demand, in particular, for camping, cycling and hiking holidays. We were certainly very satisfied. I also only heard positive comments from all other colleagues. I therefore assume that we will also take part again in CMT next year."

"It was extremely busy, and the mood among the visitors was really relaxed. We held a large number of excellent conversations with customers who were keen to make purchases. I am therefore expecting very good business after the event. On the whole, I was very satisfied with our participation in CMT. We will definitely come back again!"

"The visitors were impressed by the large number of our vehicles. We were positively surprised and our expectations regarding the number of visitors were exceeded. On the whole, we drew positive conclusions from the exhibition. Dealers were satisfied."

"We can look back on a very good exhibition because it attracted not only onlookers, but also interested customers who wanted specific advice. Going by the large number of discussions, we can expect some good sales after the exhibition. The hall for perfect for us, and we had a good stand position. We were very satisfied and will certainly come back again."

"We had a good, well-positioned exhibition stand which was well seen by the visitors. The visitors expressed a great deal of interest and we were able to provide good information and advice. Some customers came to our stand several times with additional questions. This was an indication of specific purchase intentions. I am therefore expecting good business after the event. On the whole, we had no real complaints, we were extremely satisfied. We will definitely take part again in the next CMT!"

"CMT 2023 was a great event, we are all totally satisfied! Our stand attracted a large number of well-informed and prudential customers who didn't change their decision once it had been made. A large number of visitors came to the exhibition expressly on account of our company. Some of them also presented suggestions for improvement which provided us with valuable feedback. We also met new contractual partners with new ideas. We made some good sales and are also hoping for good business after the event."

"Roof tents are a mega trend, there are many competitors. The customers whom we met at CMT wanted serious information and were totally interested. There was a good mood in spite of the crisis reports in the media. We held many fantastic discussions, and I am confident that business will still be good after the exhibition. I am satisfied."

"We are extremely satisfied! It was our first time here, and we were positively surprised how well CMT went. In particular, we found the concept that the exhibition starts on the weekend very good. During the week we mainly held specialist consultations, concluded transactions and acquired many new dealers. We want to come back again!"

"We discovered here once again that people are still interested in our region. We held a large number of first-class discussions. Numerous visitors were already familiar with the National Park region and asked about specific offers and activities. It was a very successful CMT for our organisation."

"The response gives us reason to be very positive. There were always crowds of visitors on our stand. Our guests were very interested and open-minded, and asked a large number of specific questions. Generally speaking, there was great interest in events. The German National Garden Show in Mannheim was definitely perceived as the huge summer festival. There was therefore great demand for our programmes. Advanced ticket sales also went well, even for season tickets."

Although we were also one of the few destinations to record really good figures during the corona pandemic, we are now noticing how keen people are to travel again and enjoy new experiences. We had a great deal of fun at CMT and spent some terrific days here with many good discussions. The exhibition showed that face-to-face discussions cannot be replaced by a digital format. We are certainly very happy on the whole!"

"CMT 2023 turned out to be a great success for our company and we even exceeded our expectations! The visitors were very interested in our topics. We felt that more importance is being paid to the topic of sustainability because demand in this area is increasing substantially. A large number of people want to reach their holiday destination quickly in an environmentally-friendly way. We are therefore expecting a good year for tourism here in Baden-Württemberg."

"CMT exceeded all our expectations! Although we had brochures on our stand for nine days, they were all gone after just two days. We hadn't skimped here in any way. Long-standing co-exhibitors also said that they had never experienced such a situation. The visitors asked specific questions and were well-informed. In particular, the topic of sustainability is becoming increasingly more important. Going by the response here at CMT, we can expect a very good year for tourism from Germany."