Thank you for a great CMT 2020!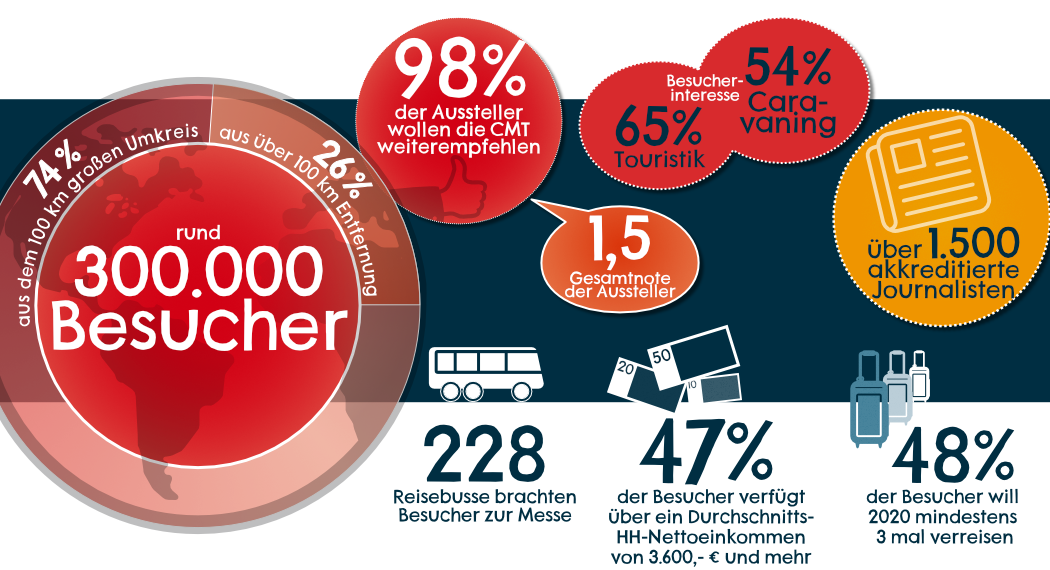 Nine trade fair days full of inspiration, the scent of distant countries, interesting innovations and the great offers from the exhibitors delighted the audience and brought everyone a great trade fair success.
Facts and figures relating to CMT 2020
Visitors:
300,000 visitors
74% of visitors came from a radius of 100 kilometres
26% of visitors travelled a distance of more than 100 kilometres
The average age of the visitors was 50,7 years
47% of visitors have an average household income of €3,600 or more
95% of visitors would recommend CMT to other people
65% were interested in the tourism sector, 54% in the caravaning sector, 9% in motoring/vehicles and 9% in other areas
48% of visitors were intending to go on holiday at least 3 times in 2019
52% of visitors were planning to spend their holiday in Germany
77% were intending to travel in other European countries
27% were planning a long-haul holiday
Exhibitors:
2,261 exhibitors from around 100 countries and 360 regions and cities
Exhibitors awarded CMT 2020 the overall mark 1.5
98 % of exhibitors would recommend CMT to other people
Exhibition:
10 halls with 120,000 square metres of exhibition space (gross)
Over 1,500 accredited journalists from 25 countries
Visitor communication on all channels
Live reports on TV and radio
Large opening ceremony with prominent guests
Large event areas and forums
Programme for trade visitors
Accompanying programme containing folklore, shows and a holiday cinema
Honoured nine times with the Gold Award from the Corps Touristique
Source: Visitor and exhibitor figures at CMT 2020
Comments by exhibitors at CMT 2020
It was a good decision to come here as a partner country! The CMT appearance offered us many possibilities for contact with our target audience and the entire market. Although we knew that the CMT is the largest holiday show for end consumers, we had not expected so many visitors. Our stand was heavily frequented, the presentations always full, and we are very pleased!

We are really happy with the progress of the CMT. From the first communication with the exhibition team to the final realisation, I could not have wished for anything better! The customer contact was also super: We had innumerable interesting conversations and were also able to complete some extensive bookings. We will certainly be coming again next time!

The CMT 2020 started with an enormous onslaught. Conversation followed conversation, people were queuing up, and the first delivery of catalogues soon ran out. We got many enquiries and also made some direct bookings via our booking system. We are very happy.

The exhibition was very well received ‒ the stream of visitors did not slow, even during the week. Overall, we met some very interested people here, many of whom we were able to have in-depth conversations with. Our partners were also positively surprised and very happy, as there were also bookings and hotel reservations directly at the exhibition.

The reception was phenomenal. We are really happy and absolutely thrilled by the exhibition. We were at full capacity on the stand from the first day. We noticed that the people were interested in the subject "Holiday on the Doorstop".

The visitors to the CMT enjoyed receiving advice and some even booked here. Many of the guests also used the direct contact to book ferry crossings. Our colleagues were certainly constantly busy. We are very pleased and will certainly be coming back next year!

We have been coming to the CMT for 25 years and once again received very good feedback. Among the many people who visited us ‒ frequently with concrete ideas ‒ were also very many regular customers. Constant exhibition presence pays for itself! Of course, we were also able to make many new contacts. Overall, I expect a good follow-up.

The resonance was significantly better than I expected. We were really busy and were able to distribute masses of information material and postcards. Contacts with other exhibitors were definitely positive, not just contact with the end customers. The level of awareness of our product has certainly been increased and I expect good business after the exhibition.

We were very positively surprised: Even on Monday and Tuesday we received very tangible enquiries and were able to take bookings directly at the exhibition. At the same time, many visitors to the stand registered with our Stuttgart office during the exhibition. We also succeeded in responding to complicated enquiries. The CMT is the best and most important exhibition for us. We are certainly really pleased once again!

This was our consulates first time at the CMT. We had lots of fun and enjoyed our stay in Stuttgart. Every day we had more than 400 visitors to our stand ‒ everyone was very interested in our holiday offers, asked concrete questions or told us about their existing travel plans. Our co-exhibitors correspondingly had lots to do. It was a great experience for us and we are really happy!

We are very pleased, especially with the detailed demand for natural and active holidays. Our Show Act on the Saturday was a great success, and of course our daily beer service ‒ just the way Bavaria tastes!

The Rocket One was presented to a broader public at the CMT for the first time and was surrounded from the very start. We received numerous concrete enquiries, were able to write offers and are looking to the future very confidently!

It was worth getting a larger stand. We more than met our targets ‒ sold well, had lots of great customer conversations, got positive feedback. Everything went well, and the subject areas were very well grouped. The communication with the exhibition management was particularly good. The CMT went very, very well and we are already looking forward to next time!

Our vehicle, with the fold-out bath and extendible kitchen, was something quite new, and we got a thoroughly positive echo from the visitors. I think that we will find lots of price enquiries in our inbox after the exhibition. For us it was an all-round successful exhibition, a good reward for our efforts!

We are very, very, very happy with the quality of the visitors and the stream of public. The Paul Horn Hall proved to be an excellent platform for the subject of utility vehicles because it was primarily visited by people already engaged with the subject. In particular, a young, sporty public recognises and values the possible multi-purpose uses. All in all, it was the most successful CMT we have ever had!

The CMT 2020 was even stronger than previous years, where one record after another was beaten. The subject of Vanlife displayed in Hall 10 was very well received. The demand for our current models was uninterruptedly high and things also look very good with regard to enquiries. We achieved a new sales recorded by the middle of the exhibition.

Even after nine exhibition days we still feel fresh because we had so much to do. Many visitors came to our stand, learned about, booked, confirmed and paid for travel. With our presentations we generated attention and attracted lots of spectators, which also benefited the surrounding stands. Additionally, we were also able to convince some of our co-exhibitors to include Sri Lanka in their programme. We are very pleased with the results of the exhibition. We are certainly coming back to the next CMT!

We met our end customers and got a great response to our entire product range ‒ the stand was full to bursting. The sales through our specialist retail partners went really well. In addition, the follow-ups were enormous, even during the exhibition. Ever more retailers would like to sell our products and visited us on the stand.

The CMT is a very good exhibition, close to the customer. We experienced so much demand here that we are fully booked until at least March. The sales practically started as the doors opened on the first day of the exhibition. Lots of people attended our presentations, and the flow of retailers was also very strong. Our expectations were met in full. We are really pleased!

We have been coming to the CMT for 52 years and once again are very happy with the visitors' interests and the cooperation with the exhibition management. We were able to write very many offers here.

The exhibition was a great success: We are very new to the German market and introduced ourselves here for the first time. We were able to generate many potential customers at the CMT and also to sell some equipment directly at the exhibition. Moreover, I am expecting good additional business subsequently. It is particularly pleasing that we were able to acquire a large manufacturer for our product and interest some others.

Our expectations were fulfilled, we are on target and can be satisfied. Lots of visitors picked up information and then returned a few days later and signed up.

The CMT 2020 ensured Dethleffs had an excellent start to the New Year! We are pleased with the enormous storm of visitors. The large number of young families and couples, who came to the Dethleffs stand with precise ideas and very concrete buying plans, was noticeable. Overall, a great start to the new caravanning season and an impressive confirmation of the CMT as the most important caravanning exhibition in the south.

The Carthago Group draws an extremely positive conclusion from the CMT. On the first weekend we recorded a further increase on the very successful last year. This positive impression was reinforced throughout the duration of the exhibition. Now our retail partners are looking forward to successful post-exhibition business. One thing is certain: The CMT offered the Carthago Group a perfect start to 2020.

This year's CMT is our most successful exhibition here in Stuttgart ever, and therefore a fantastic start to 2020!

We are overwhelmed by the stream of visitors this year, which far exceeded our expectations. The great interest in digital accessories, such as WLAN boosters or complete systems, was noticeable. We met a very experienced, technically highly interested public and assume that we will be able to record good sales in the coming season.

We are very pleased with our CMT appearance. Over the years, the exhibition has become an ever more important factor for us, which can be seen again this year from the good visitor numbers. We had customers at the stand from our home region in Bavaria, but also from Hamburg. We saw a high level of technical competence of the visitors and will definitely be returning next year. Christian Reisch, Managing Director, Alde Deutschland

We are really happy with the CMT 2020 We met a very high-quality public and recorded a record number of visitors to our stand. Not only the quantity, but also the quality of the visitors was far above that of the previous year. Next year we will have a stand of at least the same size again here at the CMT.