CastForge makes Messe Stuttgart glow
14.06.2018 - 15:24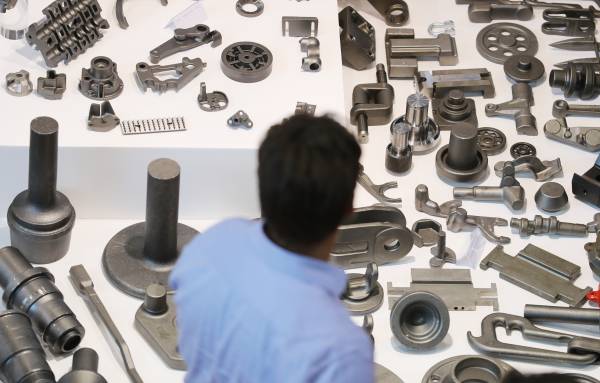 CastForge celebrated an impressive début at the Stuttgart trade fair centre. 153 exhibitors from 18 countries (international exhibitors: 61 percent) presented their comprehensive product portfolio at the trade fair for castings and forgings with processing, which finished up today. The exhibitors were impressed with the strong response of around 3,700 visitors and conducted excellent and in-depth discussions.
Over the past three days of the trade fair the Oskar Lapp Hall (Hall 6) on the Stuttgart trade fair grounds was the new meeting place for the industry of castings and forgings in the D-A-CH region. The exhibiting companies are delighted that with CastForge they now have their own platform for the first time on which they can showcase the entire value-added chain extending from cast or forging blanks and machining through to final components. "Here at CastForge visitors have the opportunity to obtain precise information about their product requirements and issues", stated Gunnar Mey, Department Director of Industrial Solutions at Messe Stuttgart, in the opening press conference and explained: "With the clear commitment to the industry we managed to develop a convincing concept and close a gap in the trade fair landscape."
Visitors impressed by première
For numerous buyer companies from mechanical engineering and plant construction, drive technology, commercial vehicle, as well as pump and compressor manufacture, CastForge offers a unique platform when it comes to researching high-quality, ready-to-install castings and forgings. Similar to the exhibitors, there was also high international interest among the visitors in the première in Stuttgart. The visitors came from 32 countries (21 percent international visitors) - besides Germany mainly from Italy, Switzerland, Austria and France - to the trade fair grounds. 32 percent of the visitors are involved in procurement, 13 percent in general/corporate/operational management and another 12 percent in manufacturing/production/quality assurance. Over 80 percent expressed a specific intention to invest or purchase. Overall, 70 percent of the visitors summed up that CastForge offers the right portfolio with its unique focus on castings and forgings and their processing and want to attend the trade fair again.
Excellent mood among the exhibitors
The exhibitors, who were at the first CastForge, were also impressed with the event. Dirk Howe, Managing Director, Siempelkamp Giesserei GmbH: "Messe Stuttgart organised CastForge professionally and for the first time it succeeded in representing the industry for castings and forgings in a condensed format. This is a big advantage for purchasers, among others, because they can obtain a comprehensive overview of the range of raw materials with only one trip. At our stand we held in-depth conversations and roughly 70 percent of the interested parties who exchanged information with us are potential customers. This is a very high rate. Based on this extremely positive verdict, we can already say today that we will be back again at the next CastForge."
GIVA GmbH will also be at the next CastForge. The conclusion from its Managing Director Massimiliano Grimoldi: "With our office in Düsseldorf we represent numerous Italian companies in the D-A-CH region and of course also at this year's CastForge. We are delighted that there is now a special trade fair for our sector. The concept of Messe Stuttgart convinced us and that's why we showcased ourselves with a large stand. This was a good decision because we were able to record more visitors than at other global trade fairs. We were a little surprised that such a trade fair attracted so many visitors. "
Martina Deul, Sales Assistant, Dirostahl – Karl Diederichs KG, also drew a positive conclusion: "We are very surprised at the support that CastForge received. We are pleased with the high number of visitors that came to us with direct project requests and inquiries. In the run-up to the event we didn't really expect that these projects would be so detailed, hence why we are pleasantly surprised! Messe Stuttgart also provided us with plenty of useful information during the preparation stage. We are very satisfied with the collaboration and the organisation and feel in good hands here in Stuttgart. You can visit us again at the same location at the next CastForge!"
Numerous exhibitors travelled from outside Germany, especially from Italy. Gianluigi Trabucchi, Managing Director, Fonderia Vigevanese, explains the reasons for this: "Germany is the most important market for Italian companies who are on the move in the castings and forgings industry. We were able to establish contacts on the three days of the event, whereby the visitors came from different industries. Some specific requests and inquiries came directly from the conversations. The organisation by Messe Stuttgart was superb."
The concept of Messe Stuttgart not only convinced manufacturers from the castings and forgings industry, but also associations who were present with stands in Stuttgart. Josef Hlavinka, Managing Director of the Association of Foundries of the Czech Republic, reports: "We are very happy with how the trade fair went. Our ten exhibiting members confirmed that they received very positive feedback and could talk to the visitors about specific, future projects. The location of Stuttgart as a venue is ideal because a large number of companies from the automotive and engineering field are located here." Leszek Szwalbe, Head of Research and Development, Odlewnia Żeliwa Śrem S.A., speaking on behalf of the PGO Group, an amalgamation of Polish companies for castings and forgings: "Our expectations were more than exceeded. We are impressed in particular with the quality of visitors at the trade fair. Messe Stuttgart also gave us professional support in the organisation of our appearance and advertised CastForge very well. In addition, the trade fair grounds with its optimal transport links is an excellent location that is very easy to reach."
CastForge enters its next stage
Together with the industry, Messe Stuttgart is now further developing the concept. Besides the issue of the correct frequency and date, this also includes the future accompanying programme and appropriate parallel events. There is no doubt that CastForge will be a permanent feature in the portfolio of Messe Stuttgart. After all around 80 percent of visitors consider trade fairs very important when researching suitable suppliers and over two thirds regularly look for new business partners.
About CastForge
As a trade fair, CastForge focuses on castings and forgings with processing. International exhibitors present their products to a wide range of visitors from the fields of mechanical engineering and plant construction, automotive and drive technology, construction machinery, pumps and hydraulic engineering as well as the supply industry.
More information can be found online at www.castforge.de
The text file, trade fair photos from CastForge and exhibition logos can be downloaded from the Internet at: www.castforge.de/presse
Captions:

CastForge_2018_PM08_CastForge_brachte_Messe_Stuttgart_zum_Gluehen_1:
Successful première of the first trade fair for castings and forgings and their processing. (PHOTO CREDIT: MESSE STUTTGART)
CastForge_2018_PM08_CastForge_brachte_Messe_Stuttgart_zum_Gluehen_2:
Unique focus on castings and forgings as well as their processing. (PHOTO CREDIT: MESSE STUTTGART)
CastForge_2018_PM08_CastForge_brachte_Messe_Stuttgart_zum_Gluehen_3:
The industry showcases its entire range of products and services at Messe Stuttgart. (PHOTO CREDIT: MESSE STUTTGART)
CastForge_2018_PM08_CastForge_brachte_Messe_Stuttgart_zum_Gluehen_4:
Supply and demand come together in Stuttgart. (PHOTO CREDIT: MESSE STUTTGART)
CastForge_2018_PM08_CastForge_brachte_Messe_Stuttgart_zum_Gluehen_5:
Closes the gap in the trade fair landscape. (PHOTO CREDIT: MESSE STUTTGART)
CastForge_2018_PM08_CastForge_brachte_Messe_Stuttgart_zum_Gluehen_6:
In Stuttgart visitors see the entire value-added chain extending from cast or forging blanks and machining through to final components. (PHOTO CREDIT: MESSE STUTTGART)
Download all media as .zip
back to overview